Tracy Staples
English major with a book studies and studio art double minor
Vermont & New York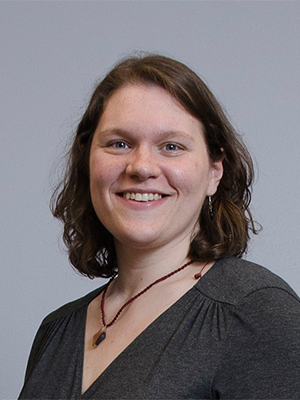 "It doesn't take long for any Goucher student to recognize that incredible friendships are likely and important conversations are pretty common."
Where are you from?
I'm from Vermont, though I was raised in Orange County, New York.
What drew you to your major?
I have always loved words and language, particularly when used for storytelling. I'm passionate about creative expression and find tutoring others deeply inspiring and fulfilling.
What led to your decision to transfer to Goucher? Where did you transfer from?
I transferred from the Community College of Vermont. A professor there suggested Goucher, saying it was "groovy" and that Goucher would definitely want me as a student. When I researched Goucher online, I was drawn in by the Goucher II program, the small class sizes, a campus with a rural feel, the fantastic faculty in the English department, the book studies minor, and Goucher's inclusion in Colleges That Change Lives.
What are your plans after graduating?
I'm confident that the connections I have made and the valuable experiences I have acquired while attending Goucher will enable me to pursue my various passions professionally. Whether teaching, writing, researching, or making art, I am well-prepared for whatever comes next.
What are your other interests or passions?
I am an artist, presently working on a senior thesis in art in which I combine a written memoir with self-portrait photography. I have gained inspiration from art faculty and area artists thanks to Goucher's courses. As a mother and wife, I have also enjoyed bringing my son and husband to campus, where we've all come to feel at home. As an active family, we enjoy attending Goucher's various events, but especially anything with free food!
What do you consider to be the important aspects of the Goucher experience?
The Goucher community is special. As an adult transfer student and a commuter, I was concerned that the campus would end up feeling like going to work each day and that social connections would be few. But it doesn't take long for any Goucher student to recognize that incredible friendships are likely and important conversations are pretty common. If you participate, you are rewarded at Goucher. Whether it's a free Frisbee, free food, or free discussion, it's always worthwhile to show up.
What advice would you give to those who are beginning the college application process or are thinking about transferring schools?
Start the application process early, but give yourself time to get through all the steps. Make manageable goals so that you're not trying to do everything at once. Really take the time to weigh your options and research some of the courses in the disciplines you're already interested or invested in. Don't hesitate to advocate for yourself. As a transfer, you've likely already discovered what does or doesn't work for you, so ask important questions and then follow your instincts. Be well-prepared, but especially by giving yourself space for a lot of new and amazing experiences.