Caroline Buxenstein '21
History Major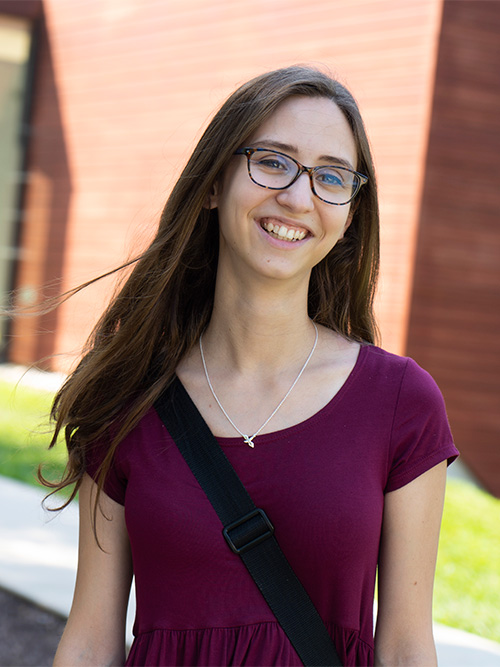 "As a nontraditional student, I feel comfortable fitting in, because Goucher is a diverse community and is accepting. It can be hard to understand my health [needs], and Goucher was one of the most accessible campuses I visited, and it's one of the things I loved most."
To Caroline, automatic doors, ramps, elevators next to commonly used entryways, and the proximity of academic buildings to one another were some of Goucher's gems.
A graduate of the Community College of Baltimore County (CCBC), the deciding factors came down to financial aid and an accessible campus. As a first-generation student with high financial need, Buxenstein says that wherever she chose, she needed a school that would support her. Finances, after all, were one of the factors that led her to community college. Secondly, her seven years at CCBC—interrupted by problems related to a genetic condition—were spent figuring out how to balance her life, education, and health needs.
Buxenstein plans to major in history, with a focus on the history of medicine and diseases. For a research project at Johns Hopkins University, Buxenstein studied the physical and psychological impacts of quarantine. She hopes to blend her interests in psychology, philosophy, history, and languages (her goal is to speak a second one fluently), which is why Goucher's interdisciplinary curriculum was an additional motivator for her to attend.
After being sick and forced to take a break from her education, Buxenstein realized school is where she wants to be for the long term. Her goal is to earn her Ph.D. and become a college professor.