Kyle Kihn '18
Biochemistry and molecular biology major
Ph.D. in pharmaceutical science, University of Maryland School of Pharmacy
Boulder, CO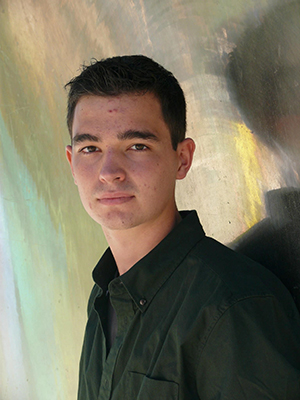 "I knew that it was easy to make strong connections and get involved at Goucher and that is something I really felt I was missing."
What drew you to your major?
I was drawn to biochemistry because, from the time I was 10 to the time I was in high school, I would visit my grandpa at his immunology lab and get to run my own experiments and see experiments that were being worked on by the other scientist there. It instilled a passion for biology and experimentation in me, one that I hope to follow professionally either in research or as a doctor.
What led to your decision to transfer to Goucher?
I transferred from the University of Colorado Boulder after spending my freshman year there. I wanted to transfer to Goucher for three main reasons. The first was I wanted smaller class sizes. I knew Goucher was a small school and that by attending it I could be in classes of 15 to 20 kids instead of the 500 to 1000 that I had previously experienced. The smaller classes also allowed me to connect with my professors on a personal level and made getting help from them easier, opposed to my previous college where it was hard to get to know you professors. The second reason I wanted to transfer to Goucher was I wanted a stronger sense of community. I knew that it was easy to make strong connections and get involved at Goucher and that is something I really felt I was missing. The third reason I choose to transfer to Goucher was it had been a school that I originally applied to and had gotten in, so I knew this was a place that I would like and that fit me as a student. They kept my application open for a year, meaning I didn't have to reapply, which I was appreciative of.
What would you like to do after graduating?
This fall, I will be attending the University of Maryland School of Pharmacy to pursue my Ph.D. in pharmaceutical science.
What are your other interests or passions?
I love to write and direct plays and films. I am a sprinter and a jumper on the Goucher indoor and outdoor track and field team. I am a resident assistant at Goucher and love any leadership role I can partake in.
What do you consider to be the important aspects of the Goucher experience?
I think an important aspect of the Goucher experience is getting to know your professors. I know in the sciences we have some really amazing professors who are doing a lot of groundbreaking research in their fields. Getting to know your professors allows you to learn about some really cool topics that your professors are super passionate and knowledgeable about and may even lead to summer research opportunities in their labs.
What advice would you give to those who are beginning the college application process or are thinking about transferring schools?
Make sure you do lots of research on the schools you are applying/transferring to. That way you can make an informed decision about the best place for you. If you are looking to transfer, make sure it is something you really want to do. It is a ton of work to transfer but if you find the right school it is absolutely worth it and makes for an even better college experience.