Contact & Directions
If you have questions about applying to Goucher, please contact our admissions department (admissions@goucher.edu / 1-800-GOUCHER) directly.
Telephone
The main campus telephone number is 410.337.6000. TTY/TDD, dial 711.
For campus emergencies please call the Office of Campus Safety at 410.337.6112 (24 hours).
For admissions queries, call 800-GOUCHER (800.468.2437) weekdays, between 9 a.m. and 5 p.m., Eastern Standard Time.
Phone numbers for other offices, faculty, and staff can be found in our directory.
E-mail Addresses
E-mail addresses are found throughout our site as well as in our online directory, or try one of these commonly sought after addresses:
Admissions admissions@goucher.edu
Alumnae/i Affairs alumni@goucher.edu
Billing billing@goucher.edu
Box Office boxoffice@goucher.edu
Career Education career@goucher.edu
Computing Services helpdesk@goucher.edu
Financial Aid finaid@goucher.edu
Graduate Programs graduateprograms@goucher.edu
Human Resources hr@goucher.edu
Student Services/Registrar SAS@goucher.edu
Security safety@goucher.edu
Postal Mail
The address of the college is as follows:
Goucher College
1021 Dulaney Valley Road
Baltimore, MD 21204-2794
Campus Map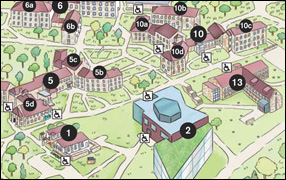 View or download campus map (PDF).
Travel Directions
Goucher College is located on Dulaney Valley Road, Towson, Maryland, about eight miles north of the center of Baltimore.
By car: If arriving by GPS, use this address:
Goucher College
1021 Dulaney Valley Road
Towson, Maryland, 21204
Motorists approaching Goucher College from any direction are advised to take the Baltimore Beltway (I-695), leaving it at exit 27A-Towson (Dulaney Valley Road south). The college entrance is on the left, one-half block from exit 27A.
By train: All passenger trains arrive at Pennsylvania Station in Downtown Baltimore. A taxi from the station to Goucher College takes approximately 20 minutes.
By plane: Limousine service from the Baltimore-Washington International Airport to local and downtown hotels is available and takes approximately 20-45 minutes. Taxicab service is also available.
Accommodations
Visit our hotel recommendations page for a list of nearby accommodations.