Leigh Engelke '18
Psychology Major
Baltimore, MD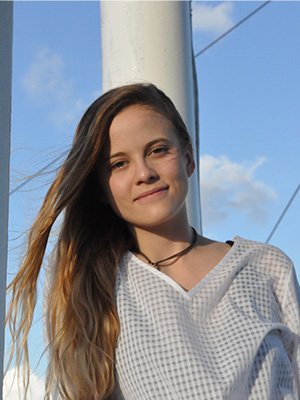 "Make connections. I joined a research team, interned, and completed a senior thesis, and through all of those experiences, the connections I made in our Goucher community were the most important takeaways."
What drew you to your major or field of study?
At the community college that I transferred from, I was in the honors program. In order to fulfill the program, we had to take a certain number of honors classes. They offered several different honors psychology classes so I took them because I was always interested. I fell in love with the subject and decided to stick with it!
What led to your decision to transfer to Goucher? Where did you transfer from?
I transferred from the Community College of Baltimore County (CCBC). The head of the honors program told me about Goucher because a previous honors student had transferred there and just graduated with her B.A. in psychology. I checked it out and fell in love with the small size, the study abroad, and the library!
What are your plans/what would you like to do after graduating, career- or otherwise?
I am thinking about graduate school. I would like to get a Ph.D. and become a professor so I can teach and do my own research.
What are your other interests or passions?
Art is a big passion of mine, specifically painting, drawing, and photography. I also love reading and writing. I spend a lot of time outdoors, hiking and exploring what the world has to offer. I travel every chance I get, and try to make the most out of every experience. My cat is my best friend, and I'll probably show you pictures of him whether you ask me to or not!
What do you consider the important aspects of the Goucher experience?
The most important parts of my Goucher experience were the ways I found to get involved. I joined a research team my second semester, so I was able to work directly with a professor and some other very intelligent and inspiring students. I connected with people on my study abroad trip. I had an internship with CREI for the Phoenix Scholars Program and met a lot of amazing people through that. The most challenging part of my Goucher experience was doing a senior thesis, but this was also the most rewarding because I accomplished something bigger than I ever thought I would.
What advice would you give to those who are beginning the college application process or are thinking about transferring schools?
Having attended three different colleges over my six years as an undergrad, I am able to say that no school is perfect. Each place you end up, college or otherwise, will have its downfalls. However, I learned that each place also has unique opportunities, and it is up to each student to take advantage of those opportunities. If you spend too much time wondering what is right for you, or waiting for someone else to tell you what to do, you'll miss out on so much and all the chances you had will be gone.