Study Abroad
We believe in the power of global education. We are 100% study abroad.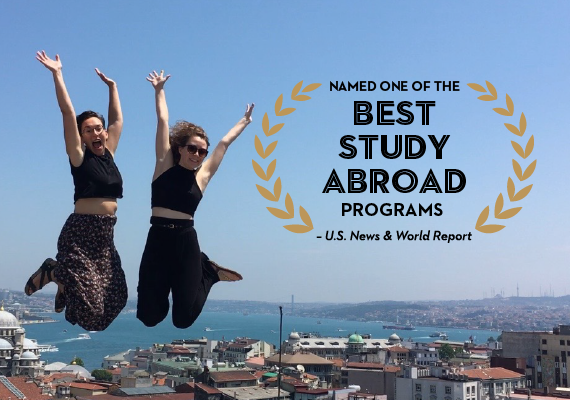 At Goucher College, we believe that—no matter who you are or what you want to do in life—the global community of the 21st century demands that you have an international perspective.
This is why we make it easy and affordable to study abroad and why 100% of Goucher students graduate with international experience that employers are looking for in our global economy.
Our dedication to global education has paid off. U.S. News & World Report has consistently named us one of the top five colleges in America for study abroad.

Why study abroad?

A Goucher College education gives students the advantage they need to navigate a global economy and make an impact in the world today. Study abroad is your chance to make a valuable connection between the classroom and real-world experience. Studying across borders, cultures, and values, you will explore different approaches of thinking, communicating, working, learning, and living.
Our flexible study abroad programs are designed to complement your Goucher College education. No matter your major, interests, or schedule, we have a program for you. Opportunities include:
studying media, arts, and contemporary popular culture in Japan;
sharpening language skills in countries like Spain, France, Costa Rica, or Ecuador;
studying urbanization, gender, race, and identity in South Africa;
exploring environmental studies, global business, or international relations through Goucher faculty-led intensive courses abroad; and
many others!
In total, there are more than 100 partner colleges and universities in over 50 countries worldwide to choose from. Programs vary in length to fit each student's schedule and interest, with yearlong options, semester programs, and three-week intensive courses abroad.
---
How can your study abroad experience have an impact after graduation?

Studying abroad can significantly influence your post-graduation opportunities. Students return with international experience and a global perspective that will benefit any career path and appeal to a range of employers. That global advantage prepares you for confronting global challenges in the jobs of today and tomorrow. In addition to career opportunities, you can explore other international opportunities, including joining the Peace Corps program, completing a graduate school degree in another country, or becoming a Fulbright finalist.
The Fulbright program is the flagship international student program sponsored by the U.S. State Department. The program recognizes scholars for their academic, professional, and leadership success and includes a group of more than 2,000 Americans studying, conducting research, and teaching abroad. Since 2017, Goucher has produced 10 Fulbright finalists.
---
How did Goucher get to be the top college for study abroad?
Since its founding, Goucher College has been a believer in the importance of a global education. That's why we were among the first colleges in America to implement 100% study abroad, ensuring every Goucher student has the opportunity to gain valuable global experiences during their time here.
Goucher has an expert team of staff and faculty dedicated to supporting students and parents in what to expect from the moment they start planning.
News
May 5, 2021

Through Stevens Initiative Connected Classrooms, selected faculty members will connect students in Morocco and the United States through virtual exchange.

August 6, 2020

Goucher College is recognized as a national leader in broadening the population of students who study and intern abroad.
Events
September 29, 2023

Global Conversation Hour is an informal gathering with an open dialog offering the opportunity for international, immigrant, and American students to talk about a variety of...

October 6, 2023

Come discuss living and learning in Central and South America with students who've returned from studying abroad and/or students from various Central and South American...

October 20, 2023

Come discuss living and learning in Asia with students who've returned from studying abroad and/or students from various Asian countries. Global Conversation Hour is an...