Mia Daniels '15
Psychology major
Master of Arts in psychological research, Pennsylvania State University
Baltimore, MD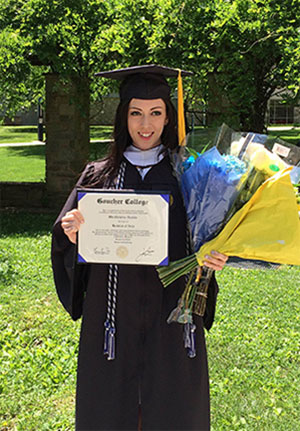 "I ended up applying and being accepted into many schools, but the more I learned about Goucher—i.e., stellar academics, beautiful campus, incredible opportunities such as study abroad—the more excited I became and it really did seem like my perfect fit."
What drew you to your field?
I've had a strong interest in psychology for as long as I can remember, although until I transferred to Goucher, I thought I would major in English. The psychology department at Goucher totally won me over and ignited my excitement in a wide variety of topics within the field, such as physiological and positive psychology. I just really enjoy learning about how and why humans perceive the world in the ways that we do, and I particularly like to study about how psychological principles can be employed to help people flourish and thrive.
What are your other interests or passions?
I am a certified yoga instructor and have a passion for just about every field related to yoga and the mind-body connection, such as meditation, reiki, Ayurveda, and holistic health in general. I love being surrounded by nature, so I enjoy all sorts of outdoor activities, such as hiking, swimming, even caving! In addition to psychology, I also love to study English (reading, writing-everything from creative to scientific-and editing), foreign languages, philosophy, and women's studies. Oh, and I love to cook-especially vegetarian and vegan dishes!
I've also discovered that I have a true passion for helping other students succeed. During my time at Goucher I served as a supplemental instructor for introductory psychology students, and I currently work for the Honors Program at the Community College of Baltimore County, where I am fortunate enough to help students from all walks of life reach their academic potentials and transfer to four-year institutions.
What led to your decision to transfer to Goucher?
Even though I've always lived pretty much right up the street from Goucher, it really wasn't on my radar until my last semester of community college when I began looking into transfer schools. I remember sitting in the office of the Honors Program director (for whom I now work), and her recommending Goucher as a potential good fit for me based on my grades and interests. I ended up applying and being accepted into many schools, but the more I learned about Goucher-i.e., stellar academics, beautiful campus, incredible opportunities such as study abroad-the more excited I became and it really did seem like my perfect fit. It turned out to be the best decision of my life so far!
Tell me about your Master's program at Penn State.
I'll be pursuing a Master of Arts in Psychological Research degree at Penn State's Harrisburg campus beginning this fall 2016. I discovered my love for psychological research while working in Dr. Ghirardelli's psychology lab at Goucher during the 2014-15 academic year. Funnily enough, most of the programs I applied to were for industrial/organizational psychology, but I figured I'd better apply to a few in research since I knew deep down that's where my interests lie. I'm fortunate to have gotten into the program at Penn State because it is widely-renowned and highly competitive, and also because everyone I've encountered so far has been nothing but incredibly welcoming and supportive. I'm so excited to work with my future advisor and research mentor, Dr. Xu, who focuses on topics such as the relationship between language and thinking, and the mental processing of figurative language. I am also grateful to her for having nominated me for a graduate assistantship, which I received. To supplement this financial package, I also received the Robert W. Graham Fellowship from Penn State. Furthermore, I have yet another reason to be thankful to Goucher, as I've also been awarded the Stimson-Duvall Fellowship for my graduate studies.
How did Goucher help you to get to this point?
Simply put, I don't think that I would have been able to pursue higher education if it weren't for the opportunities I received at Goucher, including everything from a Dean's Scholarship, to my experience working as a supplemental instructor and research assistant, to the invaluable advice of my professors. Don't get me wrong-I certainly worked to earn those opportunities-but this school really shines at recognizing and motivating students who work hard and overcome all sorts of challenges. The work was challenging, but always rewarding. Thanks to Goucher, I was able to discover my desire for a career in psychology, pursue grad school, travel to Scotland for the first time, and meet incredible people that will be lifelong friends and mentors.
What have you learned at Goucher that you will take with you to your career or grad program?
When I first transferred to Goucher, I was a little taken off-guard by the demanding nature of the work in all of my classes in terms of having high levels of group work, lots of oral presentations, and a rather strict attendance policy. However, these aspects, which I deemed somewhat of an annoyance at the time, have provided me with the most invaluable skills that I now have in my academic and professional repertoire. I truly had to challenge myself to break out of my shell in order to be successful working in groups and delivering presentations-two skills which are highly valued in the professional world-and I feel fortunate that I am now incredibly comfortable in these types of situations. The nature of the coursework at Goucher is a large part of why I am the outgoing and professionally capable person that I am today!
What was your favorite aspect of your Goucher experience?
Goucher may have a small student body but it's packed with opportunities that make it nearly impossible for students not to stand out during their time here. I always felt that I had the opportunity to highlight what was unique about me, rather than just fading into the back of a lecture hall filled with hundreds of other students. That type of recognition made for a really unique student experience. Also, I can't imagine any institution having a better organized study abroad program, and my trip to Scotland was the experience of a lifetime. Finally, the campus is such a lovely and peaceful place to just be.
Any advice for incoming students?
I think it's important for transfer students to expect there to be an adjustment period when they first come to Goucher; every school works differently, and just knowing that it will take a little time to get accustomed to a new environment helps to make the transition less jarring. Also, the old cliché-get involved! As I've said many times, there are tons of great opportunities at Goucher, but it's your responsibility as a student to take advantage of them. Go to the Student Involvement Fair! Also keep up with events going on within your major's department.