Josephine McKinley '20
Psychology Major
"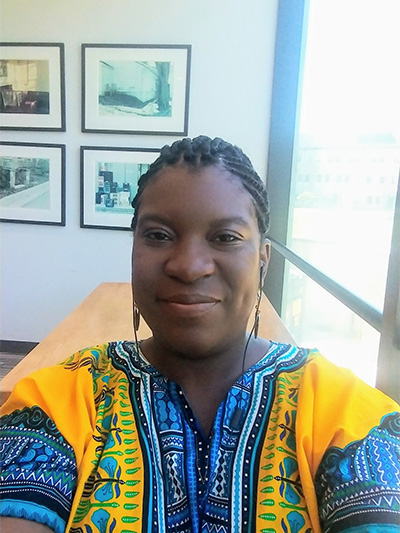 Find and embrace your authentic self."
Where are you from?
I was born in Japan and since then, I have lived in a few other places, but mostly, I grew up in Baltimore City.
Where did you transfer from?
Community College of Baltimore County (CCBC Essex)
What led you to your decision to transfer to Goucher?
A few things. Goucher's location is close to where I live. I heard Goucher had a really good psychology program. On the Goucher psychology department website, there were videos of psychology professors. Seeing Dr. Grayman-Simpson's video is what stood out to me most because I could see myself through her.
What drew you to your major?
For as long as I can remember, people, whether strangers, friends, or family, have told me that I have a certain calming energy that makes them feel comfortable talking to me. Sometimes this would include them sharing personal information or them asking for advice on how to navigate through difficult conversations. Studying psychology has allowed me to develop a core skillset that strengthened my ability to do this. In particular, I hope to use my psychology skills to facilitate healthy and positive reciprocal relationships in workplace environments.
What opportunities did you engage in during your time at Goucher?
I was a career mentor at the Career Education Office (CEO), participated on a research team for psychology, and was involved in the Center for Race, Equity, and Identity (CREI).
What would you like to do after graduating?
I would like to gain an entry level position in HR or Industrial Organizational Psychology and attend graduate school. Eventually, I would also like to become a motivational speaker.
What are your other interests and passions?
I'm passionate about training, educating, and motivating people in a way that helps them see their true potential. When I have free time, I volunteer with NAMI (National Alliance for Mental Health) to educate the public on mental health and to promote programs that NAMI has.
What do you consider to be the important aspects of the Goucher experience?
Two important aspects of the Goucher experience stand out to me. The first is to find and embrace your authentic self. Specifically for students of color, who sometimes are the only person of color in classes, I feel that it's important not to let an overwhelming experience diminish your power, resilience, and your ability to succeed. Secondly, tap into the amazing network of alumnae that is always willing to help. The best way to do this is through programs that have been put in place through the Career Education Office.
What advice would you give to those thinking about transferring schools?
You don't have to know exactly what you want to do when you transfer. Goucher, as a liberal arts education will give the experiences and skills you need to adapt to whatever you decide. You just have to make use of them.