William Kelly '22
Political Science Major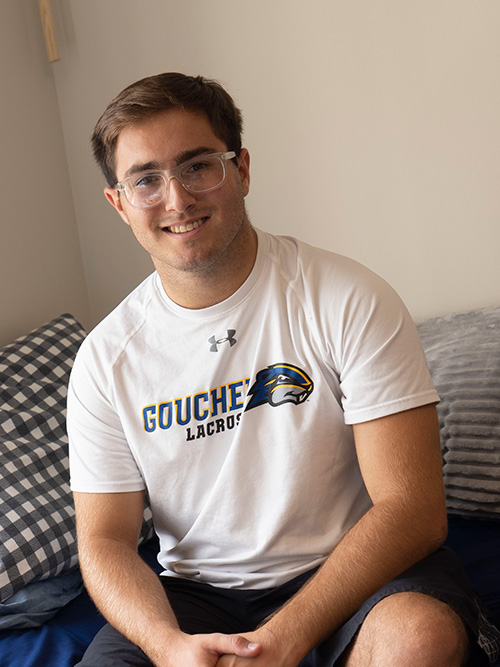 "At Goucher, it's OK to be different, show your feathers a bit, and experience things."
Kelly knows what it's like to make the transition to college, because he's done it already. A transfer student majoring in political science, Kelly lives in the First-Year Village with non-transfer first-year students, and he hopes to be their guide to college life.
Despite his experience, Goucher is new to Kelly, too. "We don't know anybody here, so let's group together and figure this out," is what Kelly channels to himself and other first-years. "I'm not stepping into an already made, settled environment. I'm stepping into what I did two years ago [for my first year at college]," Kelly says. "Everyone is bright-eyed and trying to get their footing. Hopefully, I can make friends and help others along the way."
Kelly spent a year at Easton University, where the students—who he says were all different versions of himself—made for a "stale" environment. In coming to Goucher he hopes that the diverse campus and thriving community life will be able to help him excel.
Kelly came to Goucher for the individuality within that campus community. He wants to run into people as he zips across Van Meter Highway, and he plans to keep his bedroom door open during the day just for people who want to say hey. Kelly is also on the lacrosse team, where he is excited to not only gain the immediate comradery of his teammates but also join his dad—lacrosse coach Brian Kelly—on the field.