Brooke Herold '19
Sociology and Anthropology Major and Public Health Minor
Baltimore, MD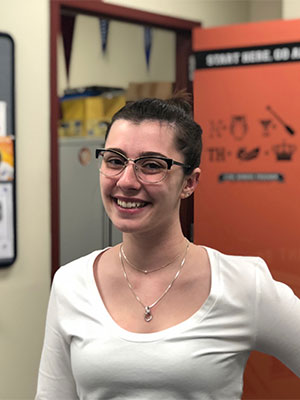 "Don't be afraid to not know what you want to do; you will definitely figure it out. Ask questions, talk to professors, join clubs, and push yourself outside your comfort zone."
What drew you to your major? 

I took a women's studies course as a diversity requirement at the Community College of Baltimore County (CCBC). The professor that taught the class was a sociology professor, and she integrated a lot of sociological material and concepts into the course. This was the first time I had ever heard about these concepts, and I had always loved working with people and learning about why people do the things they do. It took me a long time to finally decide what I wanted to major in, so I continued taking sociology courses and ultimately decided that would be the best choice for me.
What led to your decision to transfer to Goucher? Where did you transfer from? 

Personally, I couldn't picture myself at a large institution, and the fact that Goucher is a liberal arts school appealed to me because I knew students and faculty would be accepting of everyone. I transferred from the Community College of Baltimore County (CCBC) after receiving my associate's degree in general studies. I knew sociology at a small liberal arts college would be an amazing fit and open me up to new perspectives and opportunities.
What are your plans after graduating?
I am definitely considering graduate school for either sociology or public health. I've found that I really enjoy researching and learning about social issues. I would love to make a change for our society in the future.
What are your other interests or passions?
I really enjoy working with students. I was one of two student life coordinators for the First-Year Experience program at CCBC and I'm a first-year mentor at Goucher.
What do you consider to be the important aspects of the Goucher experience? 

I think Goucher is becoming very transfer-friendly, which is fantastic. Goucher has really pushed me outside of my comfort zone and challenged me in the classroom. A lot of students come to Goucher for the study abroad programs, and I'll be honest, that was something I was very nervous about. Now, I'm going to Spain for an ICA program next, and I couldn't be more excited.
What advice would you give to those who are beginning the college application process or are thinking about transferring schools?
Don't be afraid to not know what you want to do; you will definitely find out. Ask questions, meet people, join clubs and programs, and push yourself outside of your comfort zone. It will all work out in the end.