India Daley Weaver '10
Psychology Major
Assistant Director of Admissions, Capital Community College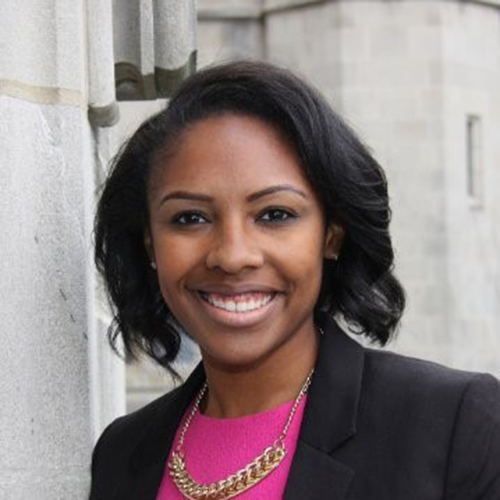 "My advisor was nothing short of amazing, serving as a mentor, a friend, and, a strong source of support."
What has been your career path since graduating from Goucher?
After graduating from Goucher in 2010, I spent a year working and applying to graduate school. During this time, I worked at the Sheraton as a Guest Service Agent, as a nanny, and, as an Interim Residence Director for Goucher College. Once completing my interim Residence Director position, I returned home to Connecticut, and, worked for AmeriCorps for a year as Youth Health Services Corp Coordinator. After I completed my year of service, I attended the Harvard Graduate School of Education to complete my Masters in Education in Human Development and Psychology. After completing my degree, I returned to Connecticut, and worked for Trinity College as an Assistant Director of Admissions. I currently work for the State of Connecticut as the Assistant Director of Admissions at Capital Community College.
What were your most influential and valuable experiences at Goucher?
Some of the most influential experiences I had during my time at Goucher within the Psychology department revolved around my classes and professors. My advisor was nothing short of amazing, serving as a mentor, a friend, and, a strong source of support. Qualitative Research Methods and Seminar in Cultural Psychology were the two courses that impacted me the most. Qualitative Research contributed greatly to my success in graduate school and beyond. I would recommend this course to any and all Psychology Majors. In addition, the Seminar in Cultural Psychology was a course that really opened my eyes and created for me a new dimension of love for Psychology. Students led most of the seminar sessions which were full of deep conversation, thought provoking assessments of oneself, and intense and sometimes uncomfortable dialogue. This course helped me to learn to think critically and deeply. Another very important experience that informed my journey in the field of Psychology was my internship at the Johns Hopkins School of Public Health as a Research Assistant. Though the topic of research was not my intended area of study, the experience helped me to better understand quantitative research processes as well as the importance of evaluation and assessment.
What advice do you have for current students interested in preparing for a path similar to yours?
My main piece of advice for psychology graduates would be to take advantage of every opportunity. Though an opportunity may not perfectly align with your future goals, it most often will be able to assist you on your journey. I would also encourage students to network as much as possible. Genuine, organic networking is crucial to your future. And I would encourage students to remain active learners. There is so much to learn from your professors and classmates. Take advantage of all of the knowledge that surrounds you.