Profile of Christopher Wild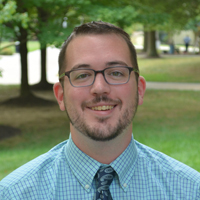 Christopher T. Wild
Director of Enrollment Systems & Operations
Phone: 410-337-6363
Email: christopher.wild@goucher.edu
Christopher has been a member of the Goucher admissions team since the fall of 2012. His favorite aspect of working with prospective students is getting to meet students on the road and being able to bring a little piece of the Goucher experience to their hometown.
Hometown: Pasadena, MD
High School: Northeast High School
Education: Mount St. Mary's University, B.S. in Business and Philosophy
Why Goucher? Goucher is on the cutting edge of what it means to be a liberal arts college in the 21st century. From our ground-breaking study abroad requirement, to our innovative curriculum, Goucher is on a mission to reinvent, refocus, and reimagine the liberal arts.
Favorite College Memory: I would have to say my experience studying abroad in Russia. It was a life altering experience and offered me a unique opportunity to get to understand the Russian people and economy without the cold war era language that often accompanies U.S. interpretations. It totally changed how I view the country.
Favorite Spot on Campus: Van Meter Highway. It is the main sidewalk on campus and is one of the main social hubs on campus. On a nice day you'll see students out and about studying, promoting club events, or just hanging out.
When visiting Goucher, I recommend: Talk to everyone! Goucher is such a warm and friendly campus, every one you meet will welcome you with open arms and be able to give a unique view of what makes Goucher a great campus community.