Profile of Jenn Pham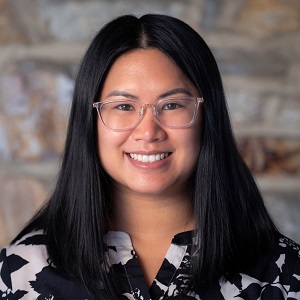 Jenn Pham
Assistant Director of International Admissions
Phone: 410-337-3057
Email: jenn.pham@goucher.edu
Jenn has been a member of the Goucher admissions team since Winter of 2022. Her favorite aspect of working with prospective students is first meeting them and their families overseas in their home country and then seeing them on campus!
Hometown: Springfield, MA
High School: SABIS International Charter School
Education: Stonehill College, B.A. in Psychology
Why Goucher?: Goucher College stands out as an exceptional choice for numerous reasons, but the three most compelling aspects that make it the perfect fit for many students are its strong commitment to supporting international students, its welcoming and friendly campus environment, and its dedication to fostering a diverse and inclusive community.
Favorite College Memory: As a first-generation college graduate, my favorite memory was handing over my degree on Commencement Day to my parents, who were both immigrants from Vietnam.
Favorite Spot on Campus: Mary Fisher Dining Center, specifically at the mac and cheese station
When visiting Goucher, I recommend: Going beyond the school and visiting Towson! Our small city has so much to offer as a small liberal arts college that is NOT located in the "middle of nowhere."