Profile of Lisa Hill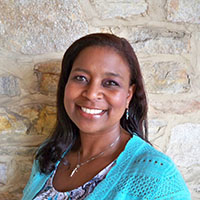 Lisa M. Hill
Senior Associate Director of Admissions, Coordinator of Maryland Scholars Program
Phone: 410-337-6517
Email: lhill@goucher.edu
Hometown: Baltimore, MD
High School: Franklin High School
Education: Randolph-Macon Woman's College, B.A. in Biology
Why Goucher? We are a safe place to be brave. Now is the time to step outside of your comfort zone and try something new and different.
Favorite College Memory: My junior year abroad in Reading, England was a life-altering experience filled with numerous memories. One of my favorite memories was having the opportunity to "work" at a local postman's pub as a server. I had so much fun interacting with the patrons and learning about their lives and interests. This was a great way to truly immerse myself into their culture.
Favorite Spot on Campus: In the midst of the bustling suburb of Towson, Goucher's 297 acres provides a feeling of calmness and peace as soon as you arrive on campus. One of my favorite places to relax is by the Goucher pond, especially when the Canadian Geese are present. It's nature at its best.
When visiting Goucher, I recommend: Having lunch with students. Great food brings about great conversation!