Student Counseling Center Staff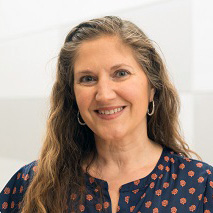 Monica Neel, Psy.D.
Director, Student Counseling Center
Licensed Psychologist
Phone: 410-337-6562
Email: monica.neel@goucher.edu
Monica has had the privilege of working with students at Goucher College since 2010. She enjoys this work immensely because of the opportunity to witnesses, on a daily basis, the self-discovery that is hallmark to the identity development of emerging adults. Monica views the therapy process as a collaborative relationship that promotes self-compassion, adaptive coping, empowerment, and future resilience. Drawing from principles of mindfulness, acceptance, and emotion regulation, she believes that individuals possess a unique capacity to connect with their own internal wisdom and path to wellness. While she has experience addressing most psychological issues confronted by adolescents and adults, Monica has specialized training in treating individuals coping with trauma, anxiety (including OCD), depression, grief/loss, and the psychological impact of injury/illness. She also works extensively with individuals who struggle with eating disorders and substance abuse.
Monica is a licensed psychologist who has been practicing in the Baltimore area since 2002. She obtained both her master's and doctoral degrees from the Clinical Psychology program at Loyola University Maryland. Following graduation, she completed a 2-year postdoctoral fellowship in the Baltimore Regional Burn Center of Johns Hopkins University School of Medicine. Monica is a first-generation Greek-American who spends time traveling (or planning her next trip) to Greece. Locally, she has a passion for supporting local farms and restaurants.
---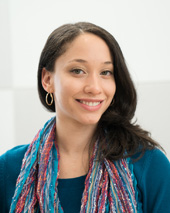 Lauren Greenberg, M.S., LCPC
Assistant Director, Student Counseling Center
Mental Health Counselor and Clinical Case Manager
Phone: 410-337-3023
Email: lauren.greenberg@goucher.edu
Lauren graduated from Loyola University Maryland with a Master's of Science Degree in Counseling Psychology. Lauren's work with emerging adulthood began in 2008 when she compiled and documented studies on attachment and college adjustment as research assistant to Dr. Jonathan Mattanah. Her externship placement for graduate school included counseling services for difficulty adjusting to college, relationship issues, grief and loss, anxiety, and substance abuse. For three years, Lauren provided hotline crisis intervention for individuals with suicidal/homicidal ideation, addiction, panic and anxiety disorders, and mood disorders to residents of Baltimore City. In addition to her work at Goucher College, Lauren provides individual and group sessions on a crisis residential unit. Her professional interests and areas of study include positive psychology, promoting social and emotional competence, and women's issues. Lauren believes that effective therapy depends upon a relationship of respect, empathy, and trust while using a person's strengths to overcome adversity and challenges. Lauren's style of therapy is integrative and suited to fit the needs and interests of each client. When not at Goucher, Lauren enjoys dance, photography, and comedy.
---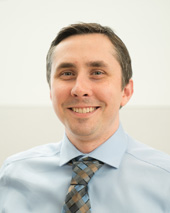 Doug Girard, Psy.D.
Coordinator of Clinical Training
Licensed Psychologist
Phone: 410-337-6052
Email: doug.girard@goucher.edu
Doug joined the Student Counseling Center in 2015. He is a licensed psychologist, and obtained his master's and doctoral degrees in Clinical Psychology from Loyola University Maryland. Doug works with a variety of concerns including depression, anxiety, stress, relationship difficulties, family conflict, self-esteem, trauma, abuse, cancer/illness, grief/loss, and emotion dysregulation. His goal is to help students overcome difficult circumstances, develop greater understanding and compassion for themselves and others, and work towards lives that are more meaningful and satisfying.
---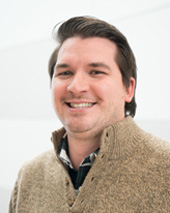 Tim Moslener, M.S., LCPC
Mental Health Counselor (part-time)
Phone: 410-337-6379
Email: tim.moslener@goucher.edu
Tim graduated from Shippensburg University in Pennsylvania with a Master's of Science Degree in College Counseling. His graduate program practicum placement included working with student-athletes adjusting to the college lifestyle at Mt. St. Mary's University as well as working with the general student population at Stevenson University in the student counseling center working with topics such as adjustment, relationships, anxiety, depression, substance abuse and suicidal ideation. For the past two years Tim has worked in the Baltimore City/County communities working with teen and adult individuals as well as families promoting positive change and empowerment of individuals lives. Tim's style of therapy includes building a therapeutic relationship with clients that involves trust and comfort, exploring thoughts and feelings through processing and verbalization, and focusing on making positive change.
---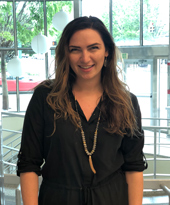 Leanna Brisson, M.S., M.A.
Extern (part-time)
Phone: 410-337-6481
Email: leanna.brisson@goucher.edu
Leanna is in her fourth year of Loyola University Maryland's doctoral program in Clinical Psychology. She graduated Stony Brook University in 2015 with her M.A. in Psychology and received her M.S. in Clinical Psychology from Loyola University of Maryland in 2017. She began working with emerging adults while at Stony Brook University and has enjoyed doing so every since. She views emerging adulthood as a crucial time in a person's life to gain an understanding of who they are and how they want to build upon their personal narrative. Within the therapeutic relationship, she hopes to create safety, security, and acceptance while exploring ones individual experience. She also believes that when we can accept the person we are, we can begin to live a genuine life and find the joy in living out our personal values. Her goal is to help students create insight into their experiences, gain a better understanding of the goals they want to accomplish, and give them the tools to build upon their goals.
---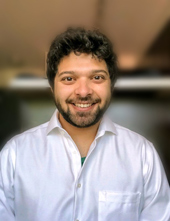 Rohaan Mehta, M.S., M.A.
Extern (part-time)
Phone: 410-337-6481
Email: rohaan.mehta@goucher.edu
Rohaan graduated from Columbia University with a Master of Arts degree in Clinical Psychology; he also holds a Master of Science degree in Clinical Psychology, and is currently in his fourth year of the Clinical Psychology Doctoral program at Loyola University Maryland. He has completed clinical externships at Notre Dame of Maryland University's Counseling Center and Loyola Clinical Centers, where he had the pleasure of working with students during a crucial time in their identity development. He has worked with students who sought counseling to address concerns related to sexual orientation, self-esteem, interpersonal relationships, religious identity, sexual assault, substance abuse, academic difficulties, depression, and anxiety, among others. In therapy, Rohaan builds relationships with clients based on openness and trust so that together they can explore the client's thoughts and feelings, understand how the client's unique history influences their present functioning, and help the client make the positive changes they seek in their life.
---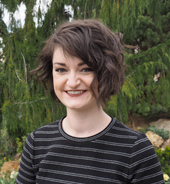 Paige Victorine, M.S.
Extern (part-time)
Phone: 410-337-6481
Email: paige.victorine@goucher.edu
Paige graduated from the University of Utah with a Bachelor's of Science in Psychology, and received her Master's of Science degree in Clinical Psychology from Loyola University Maryland. She is currently a third-year doctoral student in Loyola's Psy.D. program. She previously externed at the Loyola Clinical Centers in Baltimore, MD. Her professional interests include working with adjustment disorders, particularly those stemming from sudden events, complex trauma and PTSD, anxiety and depressive disorders, family conflict, and management of chronic health issues. Her research interests involve understanding the experience and course of caregiver burden for spousal caregivers of individuals with traumatic brain injury (TBI). Paige enjoys incorporating modalities that include acceptance and values-based work, with a goal of providing the client with adaptive coping strategies. Paige also utilizes aspects of mindfulness and psychodynamic conceptualizations in her clinical work, ultimately striving to tailor therapeutic goals and the overall experience to the individual. In her free time, Paige enjoys traveling, snowboarding, hiking, exploring farmers' markets, and enjoying delicious food with friends.
---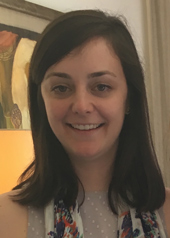 Christian Bromberg, M.S.
Extern (part-time)
Phone: 410-337-6481
Email: christian.bromberg@goucher.edu
Christian holds a Master's of Science degree in Clinical Psychology from Loyola University Maryland. She is currently a fifth-year doctoral student in Loyola's Psy.D. program. She has experience working with undergraduate and graduate students presenting with concerns related to anxiety, depression, relationship difficulties, PTSD/trauma, and substance abuse. She most recently worked as an extern at a community mental health clinic that provides psychotherapy services primarily to individuals within the LGBTQ+ community. Many of these individuals sought services to address issues such as gender and sexual identity development concerns, feelings of social alienation, and experiences of abuse and/or gender-related violence. Christian has a particular interest in working with emerging adults suffering from PTSD/trauma, family conflict, and identity development concerns. Christian believes that a safe, trusting therapeutic relationship is an absolutely vital component of effective therapy. Although Christian often uses a psychodynamic approach to conceptualization and treatment, she also pulls from other treatment approaches to provide therapy that is most suited for each individual client's unique needs and background.
---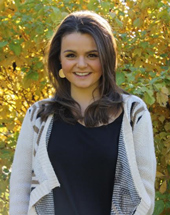 Lucy Rawson, B.A.
Extern (part-time)
Phone: 410-337-6481
Email: lucy.rawson@goucher.edu
Lucy graduated from Wake Forest University in Winston-Salem North Carolina with a Bachelor's of Art in Psychology. She is currently a student at Towson University, pursuing a Master's degree in Clinical Psychology. As an undergraduate student, Lucy took part in the Honors in Psychology program, where she completed research with Dr. Deborah Best (Developmental Psychology) examining the effects of various health related messages on adolescent body esteem, as well as their perceptions of overweight peers. Lucy has volunteered with Crisis Text Line for two years, working with at risk individuals and providing resources and an empathic ear during times of distress. She plans to get licensed as a clinical counselor (LCPC) following completion of her Master's degree and is particularly interested in working with emerging adults struggling with anxiety and mood disorders. Lucy currently conducts research with Dr. Sandra Llera at Towson University, investigating the function and maintenance mechanisms of worry for those with generalized anxiety disorder. Lucy takes an integrative approach within the counseling relationship, drawing from different schools of psychological theory to fit the unique characteristics and needs of each client.
---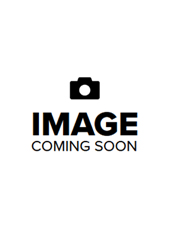 Patricia Mattheiss, M.A.S.
Operations Assistant (part-time)
Phone: 410-337-6481
Email: patricia.mattheiss@goucher.edu
In October 2018, Pat became a part-time Operations Assistant in the Student Counseling Center. With her undergraduate study completed at Towson State University, Pat earned a Master of Administrative Science degree from The Johns Hopkins University in 1986. After working full-time in private industry contracts management, Pat "retired" to stay home and raise her three (now adult) sons. Years later, returning to the workplace, part-time employment seemed a good fit and her journey brought her to Goucher in the fall of 2018. She accepted a position in the Counseling Center as an Operations Assistant where she provides a broad range of confidential administrative support to the clinicians and directors. Her responsibilities include greeting and registering students, managing incoming communication, monitoring budgets and procurement, and acting as the first point of contact for the Center. In her off hours, Pat enjoys spending time with her family and friends, likes to read and exercise, and has a passion for travel. Stop in and say hello to Pat in the Counseling Center. You will always be greeted with a warm smile.
---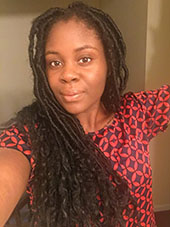 Yaya Abangma, M.A.
Operations Assistant (part-time)
Phone: 410-337-6481
Email: yaya.abangma@goucher.edu
Yaya Abangma received her Bachelor of Arts in Psychology from Spelman College in 2015. She went on to earn her Master of Arts in School Psychology from Towson University. Yaya is passionate about the physical/mental health and wellness of children and adolescents. More specifically, she is interested in working with teachers and parents to provide academic and behavioral supports to students that are having difficulties within the classroom setting. Yaya believes that schools, families, and communities must work together to increase student achievement and success. Within her role as Operations Assistant, Yaya's mission is to ensure that Goucher students have positive and productive experiences with each visit to the Student Counseling Center. Yaya is dedicated to creating a safe space for students and providing on-campus and community resources as needed.
---