JED Campus Program
Goucher is proud to be a part of the JED campus program to support student well-being since 2017.
Goucher is a JED Campus Program Participant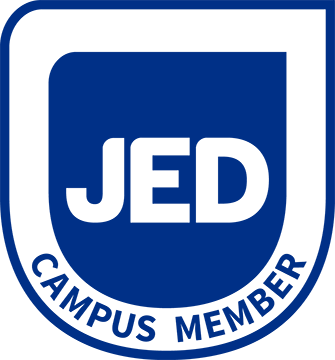 JED Campus is designed to be a comprehensive and collaborative approach to systems, programs, and policy development. The goal is to build on existing student mental health, substance abuse and suicide prevention efforts so that schools can create positive, lasting changes in their community.
JED Campus is a nationwide initiative of The Jed Foundation designed to empower schools with a framework and customized support to enhance student well-being and substance abuse and suicide prevention efforts. As a member of JED Campus, Goucher College is demonstrating its commitment to the emotional well-being of our students.
How does the program work?
Goucher College has been collaborating with clinicians and staff from the JED Campus team to identify opportunities to enhance emotional health and substance abuse and suicide prevent efforts on campus in order to ensure that we have a strong mental health safety nets in place.
What is the JED Campus Seal?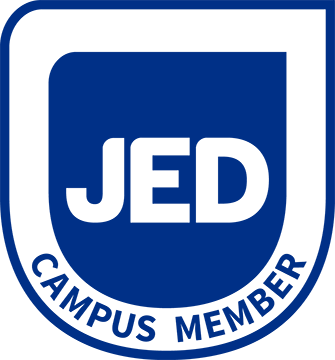 The JED Campus seal is given to member schools who begin to implement their strategic plan. This recognition of a school's dedication to supporting the emotional well-being of its students will remain valid for the 4-year duration of the program.
How is JED Campus different?
Goucher College benefits from the process of completing the JED Campus self-assessment, the feedback provided in these reports and the ability to learn and network with other JED Campus schools through the learning community. Participation in the program provide us us the opportunity to explore new ideas for enhancing the great work in progress and find innovative ways to support the emotion well-being of our students. We believe that the implementation of a campus-wide approach to mental health promotion will lead to safer, healthier students, and possibly greater student retention.
Need to talk with a counselor?
To make an appointment with a mental health counselor please call: 410-337-6481 (appointment line). The Counseling Center also has crisis walk-in appointments available Monday – Friday at 1p.m.
To speak to a mental health counselor after hours please call: 855-236-4278
To schedule an appointment with an off-campus mental health counselor, please visit our Community Mental Health Resources page to locate a provider who fits your needs.
The Baltimore County Crisis Hotline is another resource that is available to you by calling 410-931-2214.