Goucher College Family Orientation Series
As a new Goucher College family member, we want to invite you to our 2021 Family Orientation Series, which will include a series of town hall style virtual panels and workshops. Each session will be one hour in length and consist of a presentation and then time for questions and answers. We will record every session, in case you aren't able to participate live and would like to access at a later date.
Current Sessions, July through October, 2021


Learning in the First Semester at Goucher
Date/Time: Tuesday, July 13, 7 p.m. ET
Purpose: This session will explain the Goucher Commons curriculum with a focus on the first-year student learning experience. We will share summer reading details, discuss academic expectations, and offer advice for how to learn successfully at Goucher. We will also share ways students can build relationships with faculty and their success advisors, as well as how and where to get academic support. Panelists include leaders in the academic division and faculty who teach first-year courses.

Navigating this Transition
Date/Time: Wednesday, July 21, 7 p.m. ET
Purpose: This session will focus on the transition to college for new students and family members with guidance on building routines, advice on students making connections with peers and others at the college, and resources to support emotional wellness. Panelists will include the vice president and dean of students, a faculty member, and staff who support student and academic success.

View session recording


Building Community and Accessing Student Services
Date/Time: Thursday, July 29, 7 p.m. ET
Purpose: This session is designed to help students and their families understand how to connect with the Goucher community. This includes an overview of activities and engagement opportunities, as well as some resources available to support student health and well-being. Panelists will include staff from various areas of student affairs.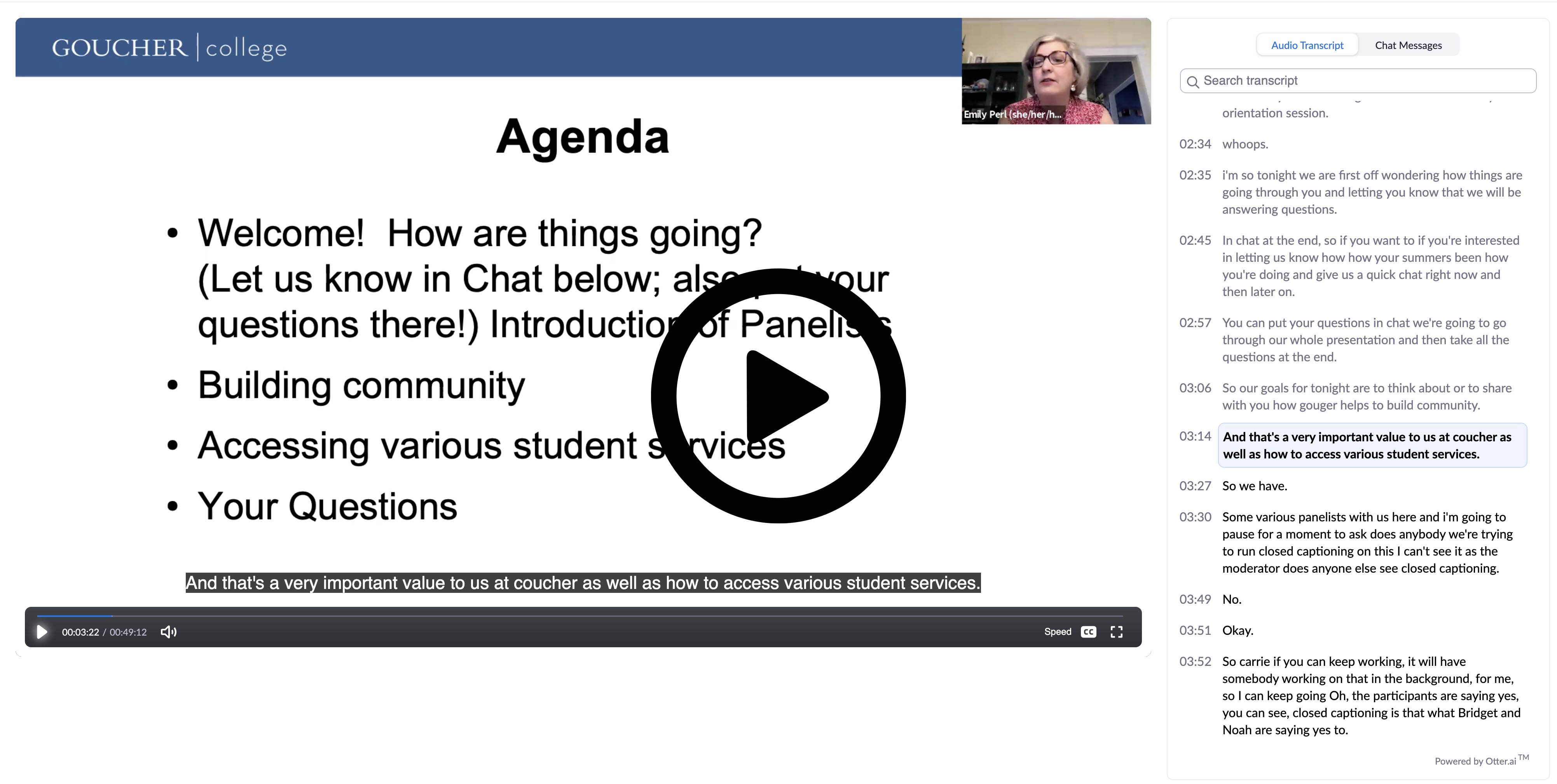 Preparing for Move-In Day
Date/Time: Tuesday, August 3, 7 p.m. ET
Purpose: Move-In Day is almost here: Saturday, August 21! (Fall athletes, dancers, international students, and LAUNCH participants will move in earlier.) What do you need to do to get ready? In this session, staff will go over the logistics of move-in, the orientation schedule, and ordering books. We'll also provide you with some ideas of what to bring (and what to leave at home).