Dean of Students
The Dean of Students/Vice President staff members will consistently be available via email while we work remotely, and will gladly schedule Zoom meetings and phone calls, as needed. We are available to assist students and families with the resolution of any questions and concerns.
Office Hours: Monday – Friday, 9 a.m. – 5 p.m. EST
Contacts:
Every Goucher student follows a unique path, socially and academically, and the Division of Student Affairs works to support students every step of the way. Through mentoring, counseling, health services, activities, events, and other initiatives, student affairs staff members strive to create an active, supportive, and inclusive environment for living and learning. We are guided by a shared vision of "Learning Everywhere", striving to create transformative learning experiences on and beyond campus.
Here you'll find contact information for student affairs staff members, so you can make sure your questions and ideas reach the right people. You'll also find important campus policies, news from Student Affairs, and links to other student services at Goucher.

Staff
Bryan F. Coker, Ph.D.
Vice President and Dean of Students
bryan.coker@goucher.edu | 410-337-6150
Andrew Wu
Associate Dean of Students and Athletic Director
andrew.wu@goucher.edu |410-337-6385
Stacy Cooper Patterson
Associate Dean of Students for Student and Campus Engagement
scooper@goucher.edu | 410-337-6124
Nicole J. Johnson
Associate Dean of Students for Student Support and Success
Center for Race, Equity, and Identity & Student Conduct
nicole.johnson@goucher.edu | 410-337-6532
Alexandra Graves
Associate Director for Student Support and Outreach
alexandra.graves@goucher.edu| 420-769-5088
Allyson Glass
Operations and Training Coordinator
allyson.glass@goucher.edu | 410-337-6150

Mobile Dean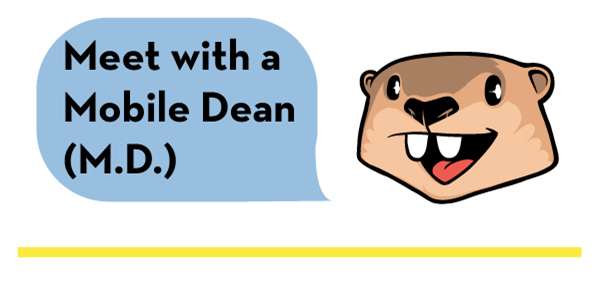 Do you have a question, concern, or need a solution?
Follow Goucher College on Instagram and Snapchat to see #AskYourMD photos and stories.
"Ask Your M.D. (Mobile Dean)" will happen twice a week, every week to meet students on VM Highway.
Mobile Dean Times
11/20 12:30-1:30 pm VM Highway