Clinton Ivan Winslow 1893-1983
Professor of Political Science and Chair of the Faculty Planning Committee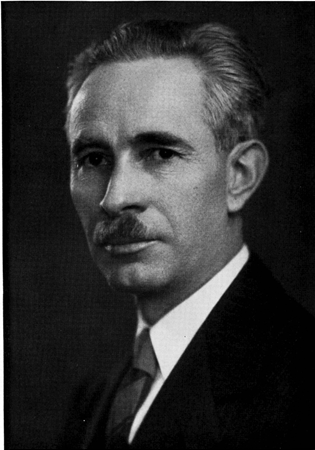 Clinton Ivan Winslow, 1893-1983
Clinton Ivan Winslow, known as "Jim" to his friends, was a longtime Goucher College political science professor, political activist, community leader, and frequent writer of political commentary.
Winslow earned an A.B. degree from the University of Nebraska and an A.M. degree and Ph.d in "State and Local Politics," both from Harvard University. Dr. Winslow taught in Nebraska, Montana, and Washington public schools. He taught in the department of political science at Goucher College from 1923 to 1965 and served as chair of the department from 1927 to1959. At Goucher, his areas of teaching included public administration; state, city and county government; American national government; and American political thought. From 1926 to 1942, Winslow taught at the McCoy College of Johns Hopkins University (former Maryland Governor McKeldin was one of his students) and at Morgan College.
Possibly Winslow's greatest contribution to Goucher College was his service as chair of the Faculty Planning Committee from its creation in 1938 until the committee ended in 1965. As chair of the Planning Committee, Winslow was deeply involved in the development of Goucher's new campus in Towson. He was a member of the five person jury for the 1938 Goucher College Architectural Competition to select the architect to design the new campus. Throughout the entire building process, Winslow served as the link between the faculty and architects. The design for every building began with Winslow and the Faculty Planning Committee who formulated the list of requirements to be submitted to the architects. Winslow continued to oversee every stage of construction for every building on the new Towson campus to ensure functionality of the buildings for the College. For many years, Winslow's primary focus was developing and building the new campus and in 1960 he received a grant to devote the whole year to the development and building of Stimson Hall. Professor Winslow was instrumental in the development of the Towson campus; he left his mark on Goucher in a very physical way.
One of seven children, Winslow was born in 1893 in Norton County, Kansas. His father, Elias Winslow, was a farmer originally from Salem, Maine. Winslow's mother, Martha Moreland, grew up in Wisconsin and then moved to Kansas shortly after her younger siblings were born (she was one of seven children as well). Winslow spent the majority of his adolescence on a 155 acre farm on which his father planted alfalfa, corn, and wheat. After life on the farm, he served in the United States Army in France and Germany during World War I and was instrumental in founding a local chapter of the American Legion in Nebraska upon his return from overseas. During WWII, Winslow served as the expeditor and member of the War Rationing Board for Baltimore City and also served for many years as an election judge in Baltimore County.
Winslow was the founder and former president of the Citizen's League of Baltimore, a group devoted to addressing the problems of governmental organization and municipal activity. He held several advisory positions in the Baltimore government during the 1940s including on the Commission on Governmental Efficiency and Economy and the Mayor's Advisory Committees on Charter Revision and on Council Redistricting.
Winslow was a member of the Maryland Chapter of the American Society for Public Administration, and the American Political Science Association. He proudly identified himself as a Blue Lodge Mason, significantly contributing to the organization through leadership and service.
An outstanding authority on state legislatures and legislative committees as well as Maryland constitutional issues, Winslow's book, State Legislative Committees – A Study in Procedures, is considered to be a classic in the political field. Under the byline C.I. Winslow, he wrote numerous articles from the 1920s to the 1970s that appeared in various publications, including The Baltimore Sun, American Political Science Review, and State Government. He spoke before innumerable groups in Maryland on topics such as county and city government and assisted groups in Montgomery County, Maryland establishing their Charter Government.
Winslow was the recipient of the John Franklin Goucher medal in 1962 when he retired from Goucher and was presented with an honorary degree from the college in 1967. That same year, he served as a delegate to the Maryland Constitutional Convention. Unexpectedly, after years of debate and negotiation, Maryland's voters defeated the proposed constitution.
This biography was written by Lara Justis and Scott Davis