Elizabeth Geen 1903-2002
Dean and Professor of English
Geen Community Center in Mary Fisher Hall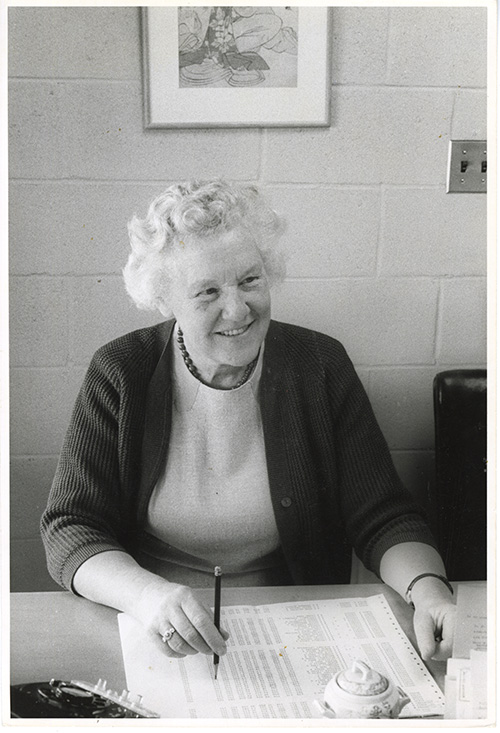 Dr. Elizabeth Geen 1903-2002
Dr. Elizabeth Geen joined Goucher College in 1950 as the Academic Dean and Vice President, as well as professor of English. During her 18 year service she helped to successfully lead the college through a number of major challenges, including a major curricular reform, rebuilding the faculty, and completing the relocation of Goucher from its original site in Baltimore City to the new campus in Towson.
In the final report on his 19 year presidency, Otto Kraushaar wrote:
"The development of the formal curriculum of the college is the work above all of Dean Elizabeth Geen, who has labored ceaselessly to give it an ordered form and character and to develop in the student a sense of chartered freedom, the hallmark of a sound educational program. By working cooperatively with the Dean on committees, students have gained insights into how a curriculum is created and administered. And beyond these professional achievements, uncounted students remember her for her sympathetic counsel and assistance."
When Goucher presented Dr. Geen with an honorary doctorate in 1994, President Rhoda Dorsey described her in this manner:
"In all of her work, Dr. Geen proved to be an innovator with a tremendous capacity for work, to be endowed with exceptional organizational ability, and an exemplar of human warmth in student and faculty relations, with a high regard for professional ethics and high ideals for personal conduct, and, in all situations, representing a stimulating and lively presence."
Elizabeth Geen was born in Dallas, Texas, but received her early education in California. She earned her B.A and M.A. degrees from the University of California at Berkeley. She did additional graduate work in English at Radcliffe College, after which she received a fellowship to study at the University of Iowa, where she earned her Ph.D.in English.
Dr. Geen began her teaching and administrative career at Mills College. In 1942 she was among the first women to be commissioned as an officer in the newly established Women's Reserve of the United States Navy. During her four years of military service, she was promoted from Lieutenant Junior Grade to Lieutenant Commander and served as officer- in-charge of two Women's Reserve Units in which she was posted. After retiring from military service, she became assistant professor of English and dean of women at Alfred University, where she remained until departing for Goucher in 1950.
During her tenure at Goucher, Dr. Geen served as a trustee of Roland Park Country School, a member of the College Board's Committee on Scholarships, and as a Commissioner of Higher Education of the Middle States Association. Her publications include numerous articles in professional and scholarly journals; the editorship, with Kenneth Walker of Man and the Modern City; a volume of essays on the occasion of Goucher's 75th anniversary; and a chapter on Morehouse College in Struggle and Promise, the Future of the Liberal Arts College.
After her retirement from Goucher in 1968, the trustees of Mount Saint Agnes College, in Baltimore, asked Dr. Geen to assume the presidency of the college for one year to complete its merger with Loyola College. She received honorary doctorates from Alfred University, the College of Notre Dame of Maryland, Loyola College, and Goucher College.