ACE: Academic Center for Excellence
The Academic Center for Excellence (ACE) is an academic support center that assists students in their effort to prepare for a life of inquiry, creativity, social responsibility and to develop a sense of personal and professional ethics and integrity.
ACE will continue academic coaching and each student with a standing appointment can expect to maintain that appointment via an online meeting space. Your academic coach will be in contact with you to confirm your meeting. For students who would like to make a new appointment with a coach, please request an appointment. If you have any questions, please do not hesitate to reach out.
Due to the requirement that all Goucher student employees reside within Maryland, Supplemental Instruction (SI) sessions for BIO 220, DMC 101, DMC 106, MA 113, MA 172, PHY 116, PSY 250.001, and ES 140 have been discontinued. PSY 250.002 and Arabic SI sessions are on hold at this time. All other SI sessions are being held as scheduled. Students should contact their SI student leaders and faculty with any questions.
Office Hours: Monday – Friday, 9 a.m. – 5 p.m. EST
Contact: ace@goucher.edu
Social Media: Instagram (goucherace)
View our Trail Guide to Online Learning (PDF)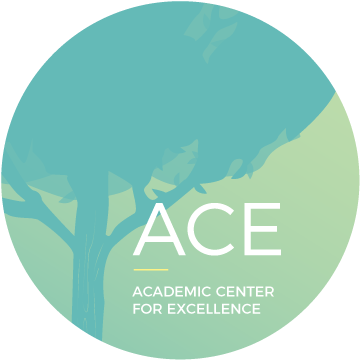 ACE supports the college's mission by providing individual academic coaching sessions, academic workshops, content-based supplemental instruction sessions and content-specific peer tutoring. The center is staffed by professional Academic Coaches and a trained graduate intern, who provide undergraduate students with opportunities to:
Develop self-awareness and autonomy
Develop positive habits of mind
Take responsibility and ownership for their learning
Develop resilience and coping skills
Learn and use effective study strategies
Enhance and apply critical and analytical thinking skills
Academic accommodations are implemented at the academic center for students with documented learning differences.
We are conveniently located in Julia Rogers Building, room 233, in the academic quad.


100% of students utilizing ACE coaching services rate us as Excellent or Very Good
Undergraduate students who rated ACE services as excellent. (13% rated very good.)
………………
Undergraduate students who utilized ACE services in 2017
………………
What ACE students are saying
We value your feedback! Please take a moment to complete our brief online customer service survey.
ACE Events
August 25, 2020

With Kendyl Walker, Pre-Major Academic Advisor Are you curious about academic forgiveness? Then, this is the session for you! You may have asked, "What is academic...

September 1, 2020

MINING YOUR WISDOM: What do you now know? With Stacie Farley and Kathleen Hake, Academic Coaches You have learned A LOT from your experiences in the last year or more. Let's...

September 8, 2020

PROCRASTINATION AND CRITICAL THINKING - THE COOL LINK TO SLOWING DOWN AND DIVING IN! With Kathleen Hake and Nancy Hesselbein, Academic Coaches In CrossFit, there is an...