Orientation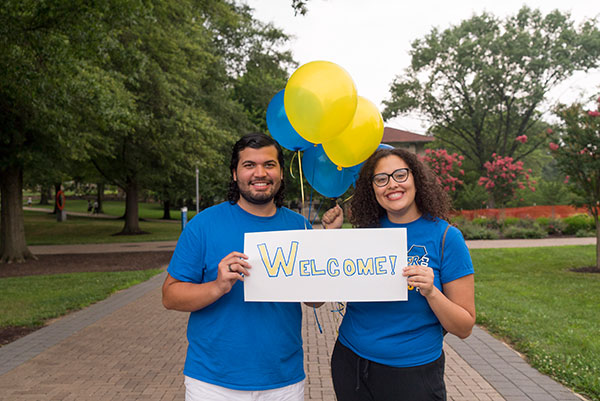 The best way to get to know your new campus community is to jump in and start exploring it yourself. Goucher's orientation programs are here to help you start connecting to your new home, and provide you with the information you need as you start your college adventure!
Our Fall and January Orientations are designed to introduce you to all aspects of your first semester at Goucher. This includes the classes you will take; the people you will know; and the places you will live, study, eat, play, and hang out.
Orientation gives first-time, first-year, transfer, and international students the chance to interact and connect with faculty, staff, and students; obtain departmental information related to potential majors; take certain placement tests or audition; and learn about student life opportunities.
Move-in for new students is Saturday, August 17, 2019. Move-in times have been scheduled based on students' room assignments. In order to expedite the move-in process, we ask that you arrive during your assigned time. If you arrive before your scheduled time, you will be asked to wait. Students will receive an email with their assigned move-in time, but below is a sample overview of each time block:
8:00 - 9:30 a.m.- Fireside Hall (rooms 212-229, 312-329, and 412-429), Pagliaro Selz Hall (rooms 301-325), and Trustees Hall (rooms 201-212 and 301-312)
9:30 - 11:00 a.m.- Pagliaro Selz Hall, floors 2 and 4
11:00 - 12:30 p.m.- Fireside Hall (rooms 101-117, 201-209, 301-309, and 401-409), Pagliaro Selz Hall (rooms 326-345), and Trustees Hall (rooms 216-233 and 316-333)
12:00 - 1:00 p.m.- Commuter students (arrive for check-in at Dorsey during this time)
Fall Orientation for students will begin on Saturday, August 17 and will continue through Tuesday, August 20. A brief Family Orientation will be offered starting late afternoon on Saturday, August 17. More details will be shared closer to your arrival.
For more details about orientation, please contact Christine Krieger (Associate Director of New Student Programs) at 410-337-6422.