Owen Kobrel
Major: Women, Gender, and Sexuality Studies & Communication and Media Studies
Hometown: Albany, NY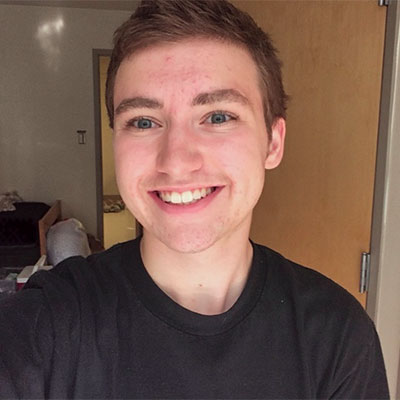 Why did you choose Goucher?
"I wanted a school that allowed you to take classes in different majors before taking required classes, offered various academic help resources, and had more discussion-based learning."
What student organizations are you involved with?
"The Student Engagement Team and the LGBT+ Media Exchange."
What is your favorite Goucher memory or tradition?
"My favorite Goucher tradition is GIG—Get Into Goucher. Classes are canceled for food, a mechanical bull, bounce houses, live music, and various other activities."
What piece of advice would you like to share with high school seniors?
"Get involved! Besides joining clubs, Community-Based Learning, Club Board, and Judicial Board (and many other extracurricular activities) teach skills you can use in "the Real World." Also, Google Calendar is hype."
If you would like to chat with Owen about his experiences at Goucher, contact him at owen.kobrel@goucher.edu