Chris Mayhew
Major: International Relations & French
Hometown: Fairfax, VA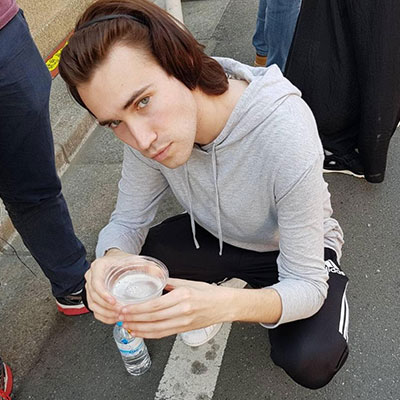 Why did you choose Goucher?
"I chose Goucher because I loved its focus on having a global perspective. I was given the opportunity to study abroad in two radically different places (Brussels and Tokyo) while still being involved in the Baltimore area (through programs like the Futuro Latino Learning Center)."
What student organizations are you involved in?
"I am very involved with the Goucher Theatre Program (directing and sound design), and I am an ESOL instructor at the Futuro Latino Learning Center."
What is your favorite Goucher memory or tradition?
'My favorite Goucher tradition is our annual Rocky Horror Picture Show! Every year since the '80s, we perform a shadow cast production. This year, I am co-directing! We always get a huge turn out and it's wonderful to see our community come together."
What piece of advice would you like to share with high school seniors?
"My life was transformed once I switched to Google Calendar. Consider using it to keep track of all those deadlines."
If you would like to talk with Chris about his experiences at Goucher, contact him at christopher.mayhew@mail.goucher.edu