Goucher E-Waste Recycling
For years, Goucher Information Technology has recycled old and obsolete equipment that is purchased and supported by the College. We currently use the services of M.O.U. Enterprises, Inc. for our recycling. M.O.U. Enterprises has served the MD, VA, and DC area since 2006. They work with several of the local colleges and universities.
Why Do We Recycle?
Goucher IT recycles for the following reasons:
Minimizes toxic waste in landfills
Limits the amount of resources used to produce new electronics
Can be reused to help communities in need


What is Recycled?
Goucher IT recycles all our computers, peripherals, monitors, servers, etc. that are old and obsolete. For the last 3 years, we have offered an annual electronics recycling event around Earth Day that is available to the entire Goucher community. So far this year, 208 items have been recycled with a total net weight of 4071 pounds.


How is it Recycled?
We schedule a pickup with M.O.U. Enterprises once our recycling bins are full. They pick up our bins and provide us with empty ones. Once they have our items, they are brought to their sorting facilities. They go through the items to see which ones can be re-used, used as parts, or broken down in to scraps.
Goucher E-Waste Recycling Area (Coming Soon)
In cooperation with the Office of Sustainability, there will be an e-waste recycling area in the Athenaeum 3rd floor near the entrance. This will be a central location for easier accessibility for all community members to recycle used electronic equipment. We ask that you only use this new service for small items. Larger items should be recycled during our annual recycling event.


Acceptable Items
Laptop and tower computers
Cell and landline phones
Radios
Alarm clocks
Printers
Batteries (for electronics only)
Tablets
Unused ink/toner cartridges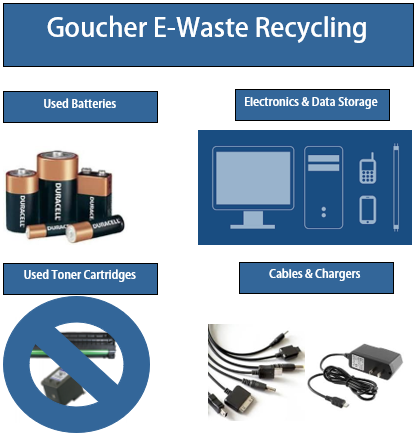 What You Should Do Before Recycling
Review the list of acceptable items. Check the list to ensure that it is something the company will recycle. If not, you may be able to find other local recycling resources.
Check for leaks. Items such as batteries may leak or explode. If that is the case, please dispose of them with regular trash. Otherwise, this will contaminate everything that is in the recycling box and may prevent the company from properly recycling the items.
Wipe hard drives. IT will not be held liable for confidential information that are left on storage devices. If someone happens to take a hard drive out of the bin prior to a pickup, they may obtain that confidential information. Here are a couple of links on the best way to wipe your hard drives:
Consider Selling Equipment Back to Manufacturer. There are a lot of companies that are willing to pay for your used equipment such as tablets, laptops, phones, etc. Some will either give you a trade-in value, give you a gift card for future purchases or give you cash outright. Check out manufacturers such as Apple, Dell, and Lenovo first for the best offers. You will still need to wipe your storage device if you decide to do this.