Sanford J. Ungar, Goucher's 10th President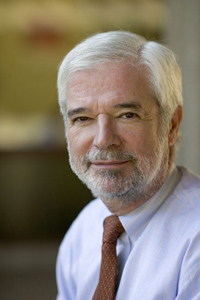 Sanford J. Ungar stepped down as the tenth president of Goucher College in Baltimore, Maryland, on June 30, 2014, after thirteen years in that position. Under his leadership, Goucher, which was founded in 1885, enjoyed considerable growth in enrollment, expanded campus facilities through a record fund-raising campaign, and became the first traditional liberal arts college in the United States to require every undergraduate to study abroad.
He is currently director of The Free Speech Project at Georgetown University, a fellow of the Lumina Foundation, and a visiting lecturer in government at Harvard College.
Prior to assuming the presidency of Goucher in 2001, Mr. Ungar was director of the Voice of America, the U.S. government's principal international broadcasting agency, for two years. In that capacity, he oversaw more than 900 hours a week of VOA broadcasts in English and 52 other languages to some 100 million people around the world. From 1986 until 1999, he was dean of the School of Communication at American University in Washington, DC.
He is the author of Fresh Blood: The New American Immigrants, which was the result of more than four years of research among immigrant groups around the United States. A previous book, The Papers & The Papers: An Account of the Legal and Political Battle over the Pentagon Papers, won the George Polk Award in 1973. Another, Africa: The People and Politics of an Emerging Continent, was a best seller in the 1980s. Mr. Ungar's other books include FBI: An Uncensored Look Behind the Walls, published in the 1970s and still regarded as a valuable source on that agency and its history, and Estrangement: America and the World, a collection of essays he edited while a senior associate at the Carnegie Endowment for International Peace. As a young correspondent in Paris, he co-authored The Almost Revolution: France – 1968.
Much of Mr. Ungar's career has been spent as a print and broadcast journalist. Between 1980 and 1983, he was the host of several programs on National Public Radio, including the award-winning "All Things Considered." He has often appeared on public, commercial, and cable television, frequently as a commentator or as the moderator of debates.
The author of many magazine and newspaper articles on topics of political and international interest, Mr. Ungar has spoken frequently around the United States and in other countries on issues of American foreign policy and domestic politics, free expression, human rights, and immigration. At Goucher, he also taught a freshman seminar on "Free Speech."
Sanford Ungar has been Washington editor of The Atlantic, managing editor of Foreign Policy magazine, and a staff writer for The Washington Post. He was a correspondent for United Press International in Paris and for Newsweek in Nairobi, and for many years contributed to The Economist, as well as The New York Times Magazine. He was published most recently in the Columbia Journalism Review, the German magazine Cicero, and New York magazine.
Mr. Ungar obtained his B.A. in Government magna cum laude from Harvard College and a Master's degree in International History from the London School of Economics and Political Science, where he was a Rotary Foundation fellow. In 1999 he was awarded an honorary degree as a Doctor of Humane Letters by Wilkes University in his hometown of Wilkes-Barre, Pennsylvania, and in 2014 an honorary Doctor of Laws degree by Goucher. He has traveled widely in Europe, Africa, Latin America, and Asia; he is fluent in French and also speaks Spanish. He serves on the boards of the Institute for Christian and Jewish Studies in Baltimore; Collegiate Directions, Inc., an organization that promotes and enables college attendance by students from disadvantaged families in the Washington area; and IAU College in Aix-en-Provence, France, which has been a leader in study-abroad programs for many decades. Mr. Ungar is also a member of the Council on Foreign Relations, and he is a congressionally appointed member of the U.S. Public Interest Declassification Board.