Office of the President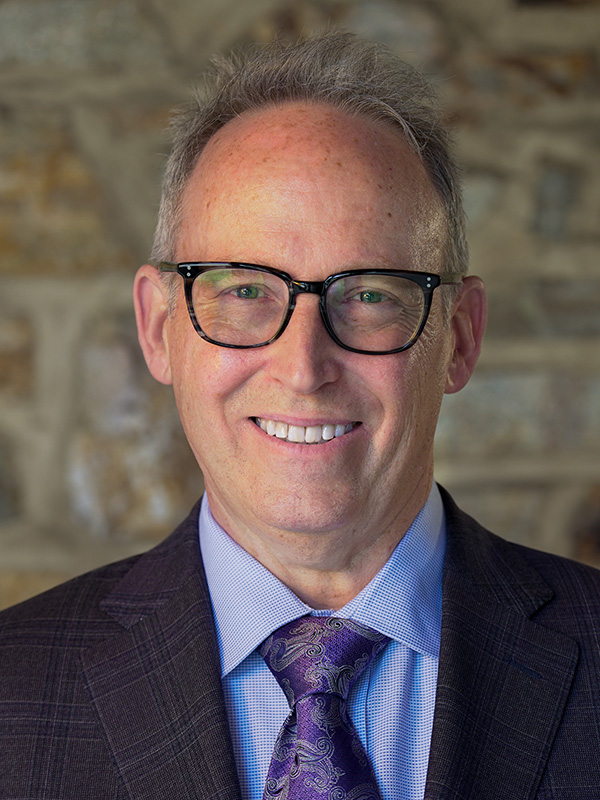 Kent Devereaux is the 12th President of Goucher College. Prior to moving to Maryland to assume the presidency of Goucher in July 2019, Kent served as President of the New Hampshire Institute of Art (NHIA), a private, non-profit college of arts and design located in Manchester, New Hampshire.
Kent has also served as Professor and Chair of the Music Department at Cornish College of the Arts and Artistic Director for the college's presenting series, Cornish Presents. Prior academic affiliations include appointments as a Visiting Artist at the School of the Art Institute of Chicago (SAIC), as the Andrew W. Mellon Visiting Professor in Criticism at the California Institute of the Arts (CalArts), and as a Fulbright Fellow at the national arts academy in Surakarta, Java, Indonesia.
In addition to his experience leading non-profit higher education institutions, Kent spent over a decade working in technology and online education sectors including stints as Senior Vice President of Editorial worldwide at Encyclopaedia Britannica, where he was instrumental in transforming the educational publisher from a print to online business in the late 1990s, and as Senior Vice President and Dean of Curriculum at Kaplan University.
As a composer and director, Kent's own work includes collaborations with artists from around the world and performances at the Brooklyn Academy of Music (BAM), Chicago's Steppenwolf Theatre Company, Minneapolis' Walker Arts Center, and elsewhere. He has also been the recipient of grants and awards from the National Endowment for the Arts, National Endowment for the Humanities, and the Rockefeller Foundation, among others.
Originally from California, Kent studied music composition with Lou Harrison while attending the University of California and with Anthony Braxton, Gary Peacock, and Gil Evans at Cornish College of the Arts in Seattle where he earned a BFA in Music Composition (1982). Kent earned his MFA in Art & Technology at the School of the Art Institute of Chicago (1985), and also completed post-graduate work in Computer Music with John Chowning at Stanford University.
Kent met his wife, the documentary filmmaker and editor Jan Sutcliffe, in Chicago shortly after finishing graduate school and they have one son, Daniel, who lives in New York.
Follow President Devereaux on Twitter @KentDevereaux.
News
September 20, 2023

Goucher College is delighted to announce that Judy C. Lewent '70, an accomplished business executive who retired in 2007 from Merck & Co. as executive vice president and chief financial officer, and her husband, Mark Shapiro, have pledged a $10 million lead gift to support the construction of Goucher's Science Innovation Center, a $40 million expansion of Goucher's existing Hoffberger Science Center designed to meet the demands of science, today and into the future.

September 18, 2023

High-quality teaching, a commitment to global education, and providing an equitable and valuable education to students are hallmarks of a Goucher College education, and the 2024 U.S. News & World Report college rankings once again affirm that Goucher is one of the best national liberal arts colleges in the United States.

September 12, 2023

Goucher College is proud to announce the appointment of three new members to the Goucher College Board of Trustees.