Judy J. Mohraz, Goucher's 9th President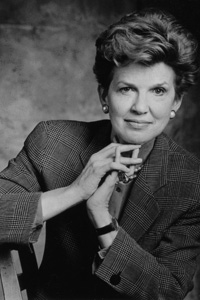 Judy Jolley Mohraz served as president of Goucher College from 1994 until 2000. During her tenure, she oversaw the opening of the Kratz Center for Creative Writing, increased the college's enrollment, and led a national capital campaign—"A Legacy of Excellence, A Future of Distinction"—which surpassed fundraising goals in support of developing the college's graduate and international studies programs and continuing Goucher's excellence in the liberal arts.
A historian by training, she was a member of the faculty of Southern Methodist University and served as associate provost there. She holds bachelor's and master's degrees from Baylor University and a Ph.D. from the University of Illinois at Urbana-Champaign. She has worked for more than three decades to ensure that women's experiences are included in the curriculum from kindergarten through the college level. She is the author of The Separate Problem: Case Studies of Black Education in the North, 1900-1930.
Dr. Mohraz was a presidential appointee to the Board of Visitors to the United States Naval Academy and co-chaired the Special Committee to review the Naval Academy. Active in local and national organizations in higher education and philanthropy, she has served on the boards of the Council on Foundations and the National Association of Independent Colleges and Universities. Committed to engagement in the community where she lives, she has served as a trustee of the St. Mark's School of Texas, ChildCare Dallas, Baltimore Community Foundation, and the board of directors of Greater Phoenix Leadership. In 2000, she became the first President and CEO of the Virginia G. Piper Charitable Trust in Phoenix, Arizona, a position she held until her retirement in 2014. The Piper Trust gives grants to and works in partnership with nonprofit groups in Maricopa County.
Currently she serves as a trustee of the Piper Trust and chairs the board of Encore.org.
Her honors include Baylor University Distinguished Alumni Award and the Business Journal's designation as one of Phoenix's Most Admired CEOs.