Campus Map & Directions
Campus Map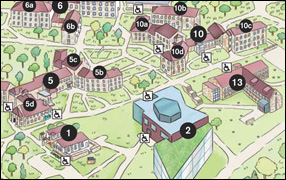 View or download campus map (PDF).
Travel Directions
Goucher College is located on Dulaney Valley Road, Towson, Maryland, about eight miles north of the center of Baltimore.
By car
If arriving by GPS, use this address: Goucher College, 1021 Dulaney Valley Road, Towson, Maryland, 21204. Motorists approaching Goucher College from any direction are advised to take the Baltimore Beltway (I-695), leaving it at exit 27A-Towson (Dulaney Valley Road south). The college entrance is on the left, one-half block from exit 27A.
By train
All passenger trains arrive at Pennsylvania Station in Downtown Baltimore. A taxi from the station to Goucher College takes approximately 20 minutes.
By plane
Limousine service from the Baltimore-Washington International Airport to local and downtown hotels is available and takes approximately 20-45 minutes. Taxicab service is also available.