Brandon Scott
2021 Commencement Speaker
Brandon M. Scott, Mayor of Baltimore City, spoke to the class of 2021 and was also awarded the honorary degree of Doctor of Humane Letters.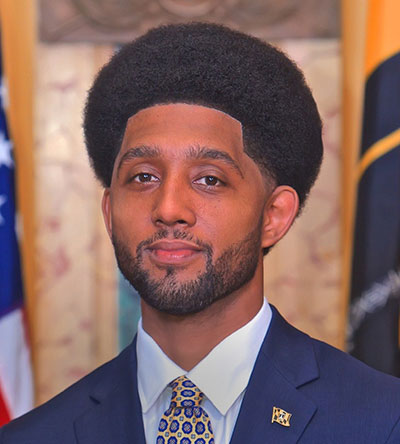 Brandon M. Scott currently serves as the 52nd Mayor of Baltimore. Previously, Scott was President of the Baltimore City Council, where he focused on building safer, stronger communities, cleaning up city government, investing in Baltimore's young people, and centering equity. He was first elected in 2011 at the age of 27 and is one of the youngest people ever elected to the Baltimore City Council.
Scott serves on the Board of Directors of the CollegeBound Foundation and The Center for Urban Families and also served as the Chair of the National League of Cities' Large Cities Council. In 2018, he was awarded the Public Service Award from the Young Elected Officials Network.