Goucher Intern Fellowship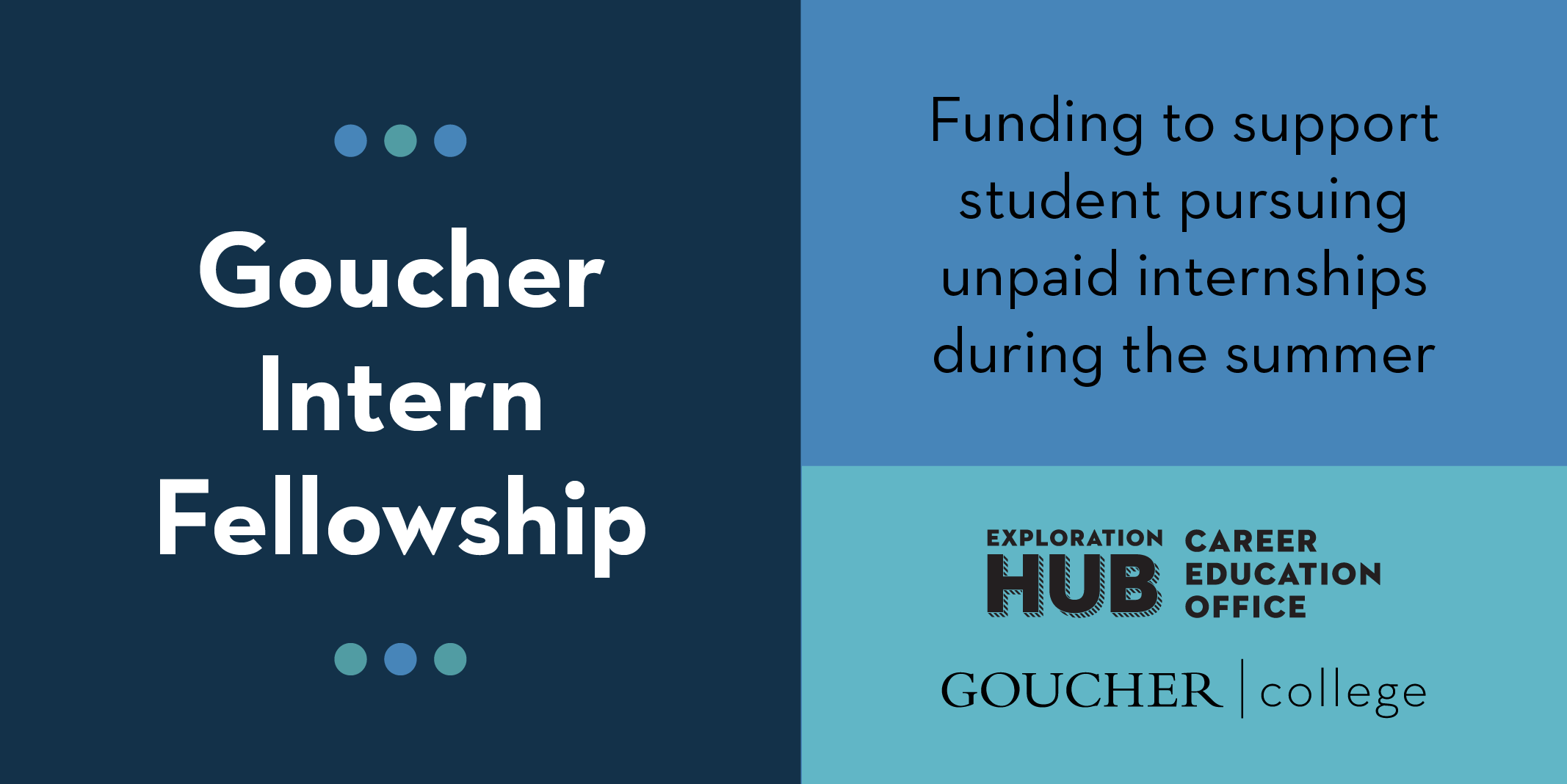 Did you know?
Students who completed at least one paid internship received a job offer more quickly and had a higher first position salary than those who did not
Goucher wants to help you have a paid experience, so you don't have to choose between making money and gaining important career related experience
$1,500
Students whose internships align with a donor's interest of "equality of women under the law" are eligible for an award of $3000. Please explain how your internship meets this criteria in your application.
In order to apply for the Goucher Intern Fellowship, you must be:
Secure an internship for Summer 2022, working a minimum of 100 hours
Enroll as a full-time undergraduate student for Fall 2022
Priority will be given to students who:
Have demonstrated financial need as evidenced by a Pell Grant or Federal Work Study
Will graduate in Dec 2022 or May 2023
Are there restrictions on the type of internship?
Internships affiliated with a Goucher faculty, staff or office are not eligible
A second internship with the same organization is acceptable, but only if the Summer 2022 has new tasks and responsibilities
Remote/virtual internships are acceptable
The process is closed for Summer 2022
1. Secure an internship to be done in Summer 2023.
2. Complete the online form, which includes applicant and internship information, short answer questions (see next section), and resume. The short answers below are a crucial piece of your application. Be as clear and descriptive as possible.
3. Request a faculty recommendation to support your application. Faculty will receive an email after you submit the application, asking them to email the letter to career@goucher.edu



Short answer questions to think about before you begin the application:
List tasks, projects and/or responsibilities of internship.
How will a Goucher Intern Fellowship assist you?
How have you prepared for this internship? Include academic courses, extracurricular activities, previous internships, work experiences, and community service.
How will the completion of your internship relate to your future career and/or academic plans?
Are there special circumstances you think it would be helpful for the selection committee to know? If you think it meets the donor's interest of women's equality under the law, please explain.
The process is closed for Summer 2022
Completed applications (online student form and letter of recommendation from a faculty member) will be read and assessed on a rolling selection process. You should only submit your application after you have secured an internship for Summer 2022. Students with a completed application submitted early and who meet the above mentioned criteria will have the greatest likelihood of being funded. The application process will close when funds are depleted, but no later than the final ILA submission deadline.
The Goucher Intern Fellowship Selection Committee chooses the recipients. A preference will be placed on:
Internships that are strongly connected to students academic and career goals
Internships with a high level of responsibility
Students with strong academic records in relevant coursework
Priority will be given to students who:
Have demonstrated financial need as evidenced by a Pell Grant or Federal Work Study
Will graduate in Dec 2022 or May 2023
Where Can I get help locating an internship?
The CEO is here to help you. You can search through our internship listings by visiting Handshake and the other resources listed on our internship page. Also, you can work one-on-one with someone at the CEO to develop a search strategy specific to your needs.