Goucher Intern Fellowship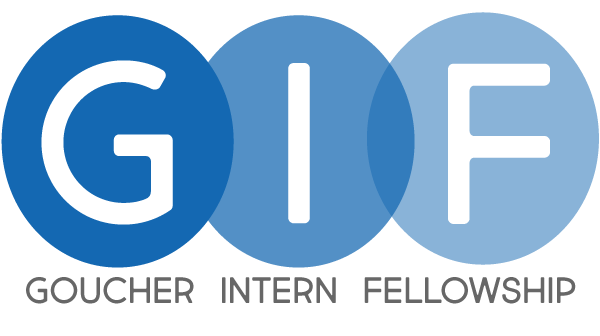 The CEO offers the Goucher Intern Fellowship to aid students in offsetting expenses for completing internships during the summer.
Award Amount
$2,000 for domestic internships and $3,000 for international internships. Students must register for an internship course for a minimum of two credits (which requires 90 hours of work at the internship site). The award amount includes the cost of two credits and provides additional funds for the student. All money goes directly to the student.
Who can Apply?
In order to apply for the Goucher Intern Fellowship, you must:
Be a currently enrolled Goucher College freshman, sophomore, or junior. December '20 grads are eligible.
Be eligible to register for an internship course for academic credit. The GIF application can be submitted as soon as you've secured your internship.
How do I apply?
1. Secure an internship.
2. Review the Goucher Intern Fellowship Information Sheet.
3. Complete the online form (includes applicant and internship information, short answer questions, budget, and resume. The live form will be available Spring 2020).
Optional: Review Sample GIF Application
4. Request a faculty recommendation to support your application. Faculty must email the letter to career@goucher.edu
Applying is well worth the effort - just think of the benefits!

Deadline to Apply
Completed applications (online student form and letter of recommendation from a faculty member) will be read and accessed on a rolling selection process. Students with a completed application submitted early and who meet the above mentioned criteria will have the greatest likelihood of being funded. Please note that the review of applications will begin in late March.
Short answer questions to think about before you begin the application:
List tasks, projects and/or responsibilities of internship.
How will a Goucher Intern Fellowship assist you?
How have you prepared for this internship? Include academic courses, extracurricular activities, previous internships, work experiences, and community service.
How will the completion of your internship relate to your future career and/or academic plans?
Where can I get help locating an internship?
The CEO is here to help you. You can search through our internship listings by visiting Goucher Recruit and the other resources listed on our internship page. Also, you can work one-on-one with someone at the CEO to develop a search strategy specific to your needs.
How are the winners selected?
The Goucher Intern Fellowship Selection Committee competitively chooses the recipients. A higher emphasis is placed on:
Internships that are strongly connected to students academic and career goals
Internships with a high level of responsibility
Students with strong academic records in relevant coursework
Current sophomores or juniors
Unpaid internships.
Have exceptional living expenses resulting from the internship.