AAGC Officers
2021-2022


President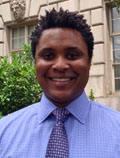 Damon Highsmith '03
Highsmith is a project manager at the U.S. Environmental Protection Agency in Washington, DC, where he develops water pollution regulations. He has also been involved in the Deepwater Horizon oil spill recovery. Originally from San Antonio, Texas, Highsmith studied Management and Political Science at Goucher, was a member of the men's soccer team, and studied abroad in Havana, Cuba. Since his graduation, he has also received his Master's degree in Environmental Science and Policy from The Johns Hopkins University.
Vice President

Kim Van Newkirk Shaffir '83, P '15
A communications major, Shaffir began working during her senior year at Baltimore's WMAR-TV, where she operated a studio camera for local news programs. Later that year, she made the move from local news to the network, beginning her now 37 year career in the Washington Bureau of CBS News. As an editor, Shaffir has covered every major beat in Washington: the Capitol, the Pentagon and the White House. For six and a half years, Shaffir worked primarily for the CBS program, Face the Nation, as a producer/editor. In 2013, she and her team received an Emmy for their broadcast about the 50th Anniversary of the Assassination of President John F. Kennedy. In early 2018, Shaffir was promoted to Digital Media Operations Manager, overseeing and managing the bureau's transition to an all digital editing system. Shaffir served as her class's Quarterly representative for twenty years and has also been a member of the AAGC nominating committee. She lives in Annapolis with her husband Greg; her daughter, Kira, graduated Goucher in 2015.
Secretary

Alicia Ladson Copeland '01
Copeland began her career as a Spanish teacher and college prep program coordinator in Baltimore County, MD. She continued to teach for 10 years at the elementary, middle and high school levels and considers herself an educator for life. Alicia is currently the After-School & Summer Programs Director at the Parks & People Foundation in Baltimore, MD. She oversees the Foundation's middle school sports program, after-school paid internship for local high school students and SuperKids Camp. In her spare time, she is a CollegeBound Foundation mentor, advises her sorority's HS youth group, is a mother of 2, and plans weddings and events.
Admissions Officer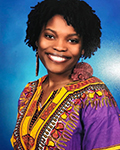 Nadiera Young '12, M.Ed. '14
Young studied English at Goucher with a concentration in Secondary Education. As a requirement to the undergraduate experience, she had the opportunity to travel abroad to Grahamstown, South Africa and taught fifth grade for three weeks. After graduating in 2012, Young accepted a fellowship to continue her education. She received a Master's in Education with a focus on at-risk youth. Young is a teacher at Roland Park Elementary Middle School teaching eighth-grade Language Arts. She also coaches for Stepping Into Sisterhood (SIS), which is a step and mentoring program for Black girls.
Annual Giving Officer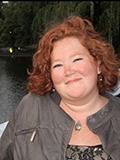 Gretchen Gilliland '03
A recipient of the Jenifer Mitchell Reed Young Alumnae/i Award, Gilliland graduated in 2003 with a BA in Psychology and minor in Art. She earned her MA in Higher Education Philanthropy from Regis College and has been in Denver for the past ten years. Since graduating, Gilliland has worked with a number of universities and nonprofits in fundraising and development, utilizing skills she learned as a student while working in Goucher Phonathon at the Alumnae/i House, and as an active member of the SGA exec team. She is currently Director of Major Gifts for the Colorado School of Mines and volunteers regularly in the Denver community around human services.