AAGC Nominating Committee
2021-2022


Facilitator

Kim Van Newkirk Shaffir '83, P '15
Shaffir currently serves as Vice President on the AAGC Board of Directors and as facilitator of this committee. A communications major, Shaffir began working during her senior year at Baltimore's WMAR-TV, where she operated a studio camera for local news programs. Later that year, she made the move from local news to the network, beginning her now 37 year career in the Washington Bureau of CBS News. As an editor, Shaffir has covered every major beat in Washington: the Capitol, the Pentagon and the White House. For six and a half years, Shaffir worked primarily for the CBS program, Face the Nation, as a producer/editor. In 2013, she and her team received an Emmy for their broadcast about the 50th Anniversary of the Assassination of President John F. Kennedy. In early 2018, Shaffir was promoted to Digital Media Operations Manager, overseeing and managing the bureau's transition to an all digital editing system. Shaffir served as her class's Quarterly representative for twenty years and has also been a member of the AAGC nominating committee. She lives in Annapolis with her husband Greg; her daughter, Kira, graduated Goucher in 2015.
Members

Sam Anderson '21
Anderson graduated from Goucher in 2021 with a B.A. in Political Science. While at Goucher, he was an active presence in student leadership, specifically, serving almost two years as president of the Goucher Student Government. Anderson also served as a first-year mentor, leading first-year students through orientation and teaching a course on topics important to the success of incoming students. In addition to these formal roles, Anderson served as an advocate for students working alongside student-organizing groups and participated in student activism around issues of accessibility, racial equity, and more. Anderson is currently an M.A. student in Higher Education with a concentration in Management and Organizations at the University of Michigan, on track to graduate in December 2022. He works as program assistant for the Difficult Dialogues National Resource Center and as an intern for the Center for Education Design, Evaluation, and Research at Michigan.
Royal Banks '20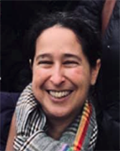 Karen Cohen Bloom '91
Bloom was an Applied Mathematics major and dancer at Goucher. After graduation, she attended the University of Cincinnati to earn a teacher certification and began teaching both middle school and high school math. She worked in both public and private schools, as well as urban and rural settings over the course of her 15 years of teaching. She is currently a middle school math teacher at Piedmont Middle School in Piedmont, CA, where she also serves as co-chair of the teacher's union's Social Justice Committee, coordinator of our school's No Place for Hate initiative, and is a member of the Gender Leadership Team. Bloom is a member of the executive board of Piedmont Anti-racism and Diversity Committee and volunteers for the education committee of Piedmont's Racial Diversity Campaign. She is on the regional board of Hadassah and recently joined SURJ Bay Area, volunteering on the Youth and Families Committee. Bloom is currently studying for a Master of Arts in Education at Humphreys University. She lives in Oakland, CA with her husband, Rabbi Mark Bloom, and has two sons in college.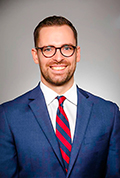 Andrew Deal '14
Deal is an Associate Director of Development at the Perelman School of Medicine at the University of Pennsylvania where he fundraises to support physician research, clinical care, and patient support funds for the Department of Emergency Medicine and the Penn Transplant Institute, amongst other priorities. In his spare time, he is a wedding photographer and enjoys competing in Spartan Races and doing Crossfit. Coming to Goucher from the great state of Maine, he studied Political Science and Business Management. He proudly served as an Orientation Committee Member, a Goucher Vagabond, At-Large Student Representative, Treasurer for the Class of 2014, and co-chaired Gophers for Goucher, the volunteer student philanthropic committee. Above all, he made the Goucher community smoothies and mozzarella sticks during his time as a manager at the Gopher Hole.

Celena Dyal '17
Dyal graduated from Goucher in 2017 with a degree in Chemistry. During her time at Goucher she served on the Judicial Board, Smoke Free Campus Initiative, learned German, and was a dedicated student worker in the box office. After graduating from Goucher, Dyal completed a year of service as an AmeriCorps member with City Year Los Angeles serving as a tutor and mentor at one of the most at-need high schools in Los Angeles. Dyal is currently a law student at the University of Maryland Francis King Carey School of Law, where she is a staff editor on the Journal of Business and Technology Law, a member of the Alternate Dispute Resolution team, and has served as the President of the Asian Pacific American Law Student Association.

Auni Husted Gelles '10
Gelles graduated from Goucher with a Bachelor of Arts in Anthropology/Sociology in 2010. During her time at Goucher she served as editor of the Quindecim student newspaper and studied abroad in Copenhagen and South Africa. She holds a Master of Arts degree in Historical Studies degree from UMBC and works in the field of public history, currently at the Baltimore Museum of Industry. Auni lives in the city with her husband Tim, Goucher class of 2008, son Edison, and dog Satchel.

Gloria Kantor '04
After graduating in 2004, Kantor has used her Management degree and Communications minor crafting experiences in radio promotions, helping to build a wine and liquor distribution business, and currently works for the Association for Corporate Growth. In her time at Goucher, you could find her in the SRC working with the women's basketball team or as a student trainer. She also held numerous leadership positions in clubs, helping to create the programming board, and SGA. Gloria currently lives in her hometown of Atlanta, where you can find her out at a concert, running, or enjoying all that the city has to offer.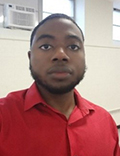 Ridwan Lawal '20
Lawal graduated from Goucher in 2020 with a degree in Economics. During his time at Goucher he served in numerous leadership roles. He was a First Year Mentor, eventually becoming a co-chair; president of Umoja (now Goucher Black Student Union); and president of Agriculture Cooperative, which led to Garden manager for the Goucher Garden. He was on GESAC (Goucher Environmental Sustainability Advisory Council) and was Club Council Treasurer. After Goucher, he was accepted into Teach for America and started teaching as a middle school math teacher in Cleveland, Ohio. Lawal loves teaching and believes in equitable teaching, where scholars get what they need to be the best scholar they can be. In his down time, he enjoys environmental justice, agriculture, staying active, and biking.