2018 Citation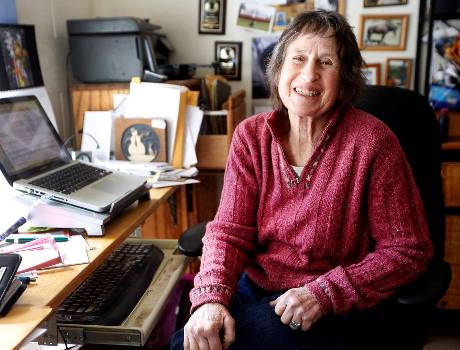 Goucher College is proud to honor Claudia Robins Whitman, Class of 1963, with the 2018 Alumnae & Alumni of Goucher College (AAGC) Award for Excellence in Public Service. Claudia has spent her entire adult life dedicated to civil rights and social justice causes, starting from her time at Goucher. For decades, she has worked to free innocent people from prison and to create support systems for incarcerated individuals and their families.
Claudia has always thrown herself wholeheartedly into her work and her interests. After graduating from Goucher College with a B.A. in art history, she studied for a year at the Boston Museum School and two years at the Art Students League, in addition to receiving a B.F.A. in painting from the Portland School of Art and an M.A. in art education at NYU.
She taught art in Vermont and in volunteer trips to Nicaragua, but eventually became a full-time volunteer for Equal Justice USA, a national organization that advocates for criminal justice reform. Claudia then led a chapter of an organization fighting the death penalty, which evolved into her own nonprofit, now called the National Capital Crime Assistance Network.
Claudia works 60-hour weeks, without pay, to support prisoners with their legal and investigative needs. She takes several clients a year, and those she can't help, she directs to other resources. It is vital work. According to some estimates, up to 10 percent of incarcerated people in the U.S. could be innocent.
Claudia has helped free at least seven people from prison. She has indirectly helped countless others. Four of her cases have ended in exoneration of the client either through an innocence project or through a lawyer she has hired through her nonprofit. Thorough, tireless, and caring, she is the person to turn to when there is no one else and no hope left. She is an investigator, a fundraiser, a writer, and a friend.
Born in Los Angeles, she now lives in Mancos, Colorado. Claudia has never stopped moving. She travels across the country to meet with her clients. She walks her two dogs at least four times a day. She rides horses, contributes to numerous books and articles, spends time with her husband, and continues to paint and sell her artwork. She also volunteers at a local art gallery in Colorado, which, as she told one journalist, is a way to "keep sanity and balance."
Claudia herself is a balancing force. Her work bringing even a small amount of balance to the criminal justice system does more for our democracy and our underserved citizens than is possible to quantify. As one man she helped exonerate said, "She was the first person that believed in me. [Her friends and family] have an angel living among them."
For her leadership as a social justice advocate, for her passion as an artist, and for all she has given to those who have had their lives and freedom stolen from them, the Alumnae & Alumni of Goucher College recognizes Claudia Robins Whitman with its Award for Excellence in Public Service.