Public Service Award Committee
Alumnae & Alumni of Goucher College 2022-23 Public Service Award Committee
Senior Alumna Trustee & Committee Chair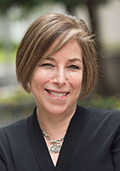 Jodie Hirsch Slaughter '79
Slaughter graduated from Goucher in 1979 with a degree in English. For more than 25 years, she dedicated her career to helping non-profit, membership associations solve their most pressing challenges. She founded McKinley Advisors, the largest association research and strategy firm, in Washington, DC in 1994.
Slaughter was an active member of the American Society of Association Executives (ASAE). She is an ASAE Fellow, past Chair of the Fellows, and a past Director on the ASAE and ASAE Business Services Boards. She was a frequent speaker and was recognized as a "best of" presenter at the ASAE Annual Meeting, and in 2011 was inducted into ASAE's Academy of Leaders. Slaughter also appeared frequently in Associations Now and was a contributing author of the book, Generating and Managing Non-dues Income in Associations.
Since retiring from McKinley in early 2018, Slaughter has focused on her passions, completing her first triathlon and serving on the board of a professional membership organization. Jodie lives in Arlington, Virginia with her husband, David, and their Cavalier King Charles Spaniel, Jellybean.
Members

Candace Chance '10, M.A.C.S. '12
Chance is a West Baltimore City native who matriculated from Goucher College with a Bachelor's in Biology and a Master's in Cultural Sustainability; exploring the intersections of local leadership, social ecosystems, education and entrepreneurship. This has set her on quite an unconventional path, uncovering equitable strategies to build resilience in historically disadvantaged, urban communities.
Chance has shared the stage with some of the top thought leaders in leadership and personal development as well as community development. She has traveled extensively, including spending seven months in Queensland, Australia, and making her second home in Nairobi, Kenya. She is currently the Founder & CEO of The VPI Firm, a process and strategy design firm for social good.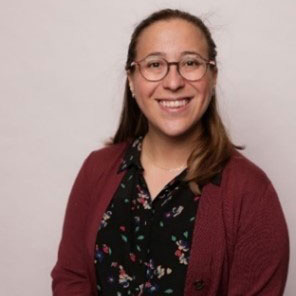 Julia Pollack '07
Julia is the Director, Volunteer Leadership at Combined Jewish Philanthropies (CJP) – the Jewish Federation of Greater Boston. Her focus is on creating a comprehensive leadership development strategy that aids in building a strong pipeline of volunteer leaders for CJP and the community, while also identifying consistent, core leadership competencies needed for available opportunities. Her goal is to ensure that our leaders have a positive experience in their lifetime of volunteering by providing small cohort learning-based programming along with alumni touchpoints that allow for continued leadership engagement. Julia manages the following cohort programs along with other opportunities as they arise: Dewey Stone Kadimah Leadership Program, Women's Philanthropy Leadership Series, Jewish Federations of North America National Young Leadership Cabinet, Leadership Learning Circles, and the Cynthia and Leon Shulman Acharai Leadership Program.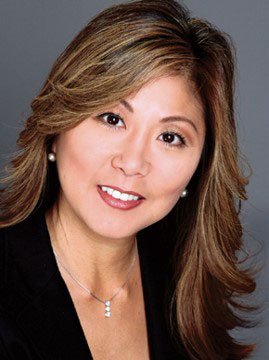 Judy Yu '93
Judy Yu, D.M.D., M.B.A, B.A, class of 1993 is a dentist/owner of Dental FX in Pasadena, MD. She is actively volunteers in the community and is the chair for the Northern Anne Arundel County Chamber of Commerce (NAACCC) Health/Wellness Committee. She is currently working on a cookbook, a dentist's guide on what to serve you loved ones after oral surgery. Title still in the works. It will have non-chewable recipes, as well as dental advice.
Faculty Representative
Anna Jozwick, Assistant Professor of Biology


Executive Director of Alumnae/i Affairs
Jennifer Pawlo-Johnstone
We'd love to hear from you! Contact the committee by emailing jennifer.pawlojohnstone@goucher.edu or by filling out a Public Service Award nomination form.