Public Service Award Committee
Alumnae & Alumni of Goucher College 2021-22 Public Service Award Committee
Senior Alumnus Trustee Chair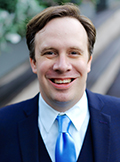 Alex Wood '06
Wood is a social worker at GBMC in Towson, Maryland. His professional interests include mental health, gerontological social work, individual and family psychotherapy, health care, leadership, organizational management, and social policy. Wood graduated from Goucher in 2006, receiving a BA in history, magna cum laude. Subsequent to this, he spent 10 years in the higher education and not-for-profit fields, including over five years at one of the "Big Six" national higher education associations in Washington, D.C. He holds an MPA from the University of Georgia, a certificate in fundraising and philanthropy from New York University, and an MSW from The Catholic University of America, National Catholic School of Social Service. Wood served as a recent graduate trustee, has sat on various Goucher and AAGC committees, and is a recipient of the Jenifer Mitchell Reed '86 Young Alumni Award. His hobbies include being an ardent follower of politics, reading, watching films, collecting stamps, traveling, and trying to learn how to play golf. He is a supporter of Manchester United, and believes that despite any imperfection Batman is the quintessential superhero. Alex also believes that good friends, a ready sense of humor, and unbounded curiosity are essential to a life well-lived..
Members

Candace Chance '10, M.A.C.S. '12
Chance is a West Baltimore City native who matriculated from Goucher College with a Bachelor's in Biology and a Master's in Cultural Sustainability; exploring the intersections of local leadership, social ecosystems, education and entrepreneurship. This has set her on quite an unconventional path, uncovering equitable strategies to build resilience in historically disadvantaged, urban communities.
Chance has shared the stage with some of the top thought leaders in leadership and personal development as well as community development. She has traveled extensively, including spending seven months in Queensland, Australia, and making her second home in Nairobi, Kenya. She is currently the Founder & CEO of The VPI Firm, a process and strategy design firm for social good.

Jack Kavanaugh '11
After majoring in Religion at Goucher, Kavanaugh returned home to Buffalo where he received his Masters in Social Work from the University at Buffalo and has spent a career working with youth across many settings, including schools, summer camps and other community-based organizations. He is currently the Director of Training & Program Development at MENTOR New York, where he provides support services to mentoring programs across the state. Kavanaugh has provided training and consulting services to dozens of youth-serving organizations and trained hundreds of people on mentoring and best practices around relationship building.



Donte Small '18
Small is the first Goucher Prison Education Partnership (GPEP) student to earn a bachelor's degree on the main campus. He holds a B.A in Computer Science with a minor in Sociology. While at Goucher, Small was active in the Baltimore community including volunteering with the GPEP to bring awareness about the transformative effect of education. This has included speaking events and panels at faith organizations, universities, the Department of Education, and Maryland's Parole and Probation Board. He currently works as a project support specialist at an Enterprise Case Management software development company, Adsystech, in Beltsville, MD.
Faculty Representative
Anna Jozwick, Assistant Professor of Biology


Executive Director of Alumnae/i Affairs
Jennifer Pawlo-Johnstone
We'd love to hear from you! Contact the committee by emailing jennifer.pawlojohnstone@goucher.edu or by filling out a Public Service Award nomination form.