Published Works
The Nancy Patz Collection documents all aspects of the process of writing and illustrating children's books. It also illuminates the production process for each book.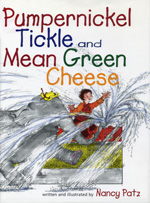 Pumpernickel Tickle and Mean Green Cheese (1978, 2000) Patz's first published children's book, is also the first of her three books featuring Benj, a young boy, and El, his fun-loving elephant friend.
In writing Moses Supposes His Toeses are Roses and 7 Other Silly Old Rhymes, Patz sifted through the collections of the American Folk Life Center at the Library of Congress. She chose old poems, tongue-twisters, limericks, and nursery rhymes and illustrated them in the style of Pennsylvania Dutch folk art.
Patz created nearly 200 watercolor and ink illustrations for The Family Treasury of Jewish Holidays. Borders and frames enhance the spirit of each holiday, and many of the illustrations are lively reinterpretations of elements found in illuminated manuscripts.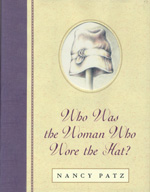 Inspired by a hat in Amsterdam's Jewish Historical Museum, the award-winning book Who Was the Woman Who Wore the Hat? is a poetic meditation that imagines and mourns the life of an unknown woman lost in the Holocaust.
Babies Can't Eat Kimchee! was written and illustrated in collaboration with Susan L. Roth. Patz's granddaughter Sophie was the original inspiration for the book; however, in the process of working with a Korean publisher, the little blonde girl in the story changed to a dark-haired Korean-American child, and the book found its final title.

All Published Works
Babies Can't Eat Kimchee! (with Susan L. Roth), 2007
Who Was the Woman Who Wore the Hat?, 2003
The Family Treasury of Jewish Holidays (by Malka Drucker; illustrated by Nancy Patz), 1994
To Annabella Pelican from Thomas Hippopotamus, 1991
No Thumpin', No Bumpin', No Rumpus Tonight!, 1990
Sarah Bear and Sweet Sidney, 1989
Gina Farina and the Prince of Mintz, 1986
Moses Supposes His Toeses Are Roses and 7 Other Silly Old Rhymes, 1983
Nobody Knows I Have Delicate Toes, 1980
Pumpernickel Tickle and Mean Green Cheese, 1978, 2000