Religious & Spiritual Life
The Office of Religious & Spiritual Life seeks to support the students, faculty, and staff at Goucher College in living a whole-hearted and connected life. Our Chaplain, along with the Religious Advisor to the College, are available to members of our community to offer spiritual counseling, support with religious accommodations, services for major holidays, and opportunities for deep conversation and connection.
Who We Are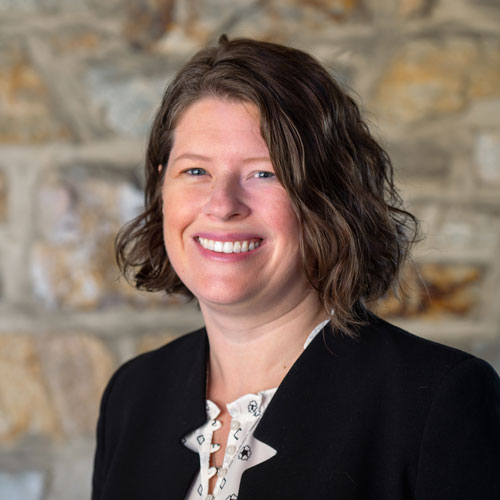 Rev. Maeba Jonas, M.Div (she/her/hers)
Chaplain and Director of Religious & Spiritual Life
chaplain@goucher.edu
---
What We Offer
Exploration of Meaning & Purpose
We believe college is a time to grow intellectually, emotionally, and morally. We value opportunities for moral and ethical discussions that go beyond the classroom and engage a diversity of cultural backgrounds and beliefs. Check out our Events page to learn more about opportunities for engagement as a Goucher Student.
Space for Community & Belonging
Our Chapel is located at the heart of the campus along Van Meter highway and is open to all members of our community regardless of religious affiliation. The Sacred Space inside the Chapel is an intentionally Interfaith environment where services for Jews, Muslims and Christians are held throughout the week and year. Any person wishing to find a quiet place to meditate, reflect or pray is welcome. Learn more about Sacred Spaces at Goucher.
A Safe & Inclusive Campus
Every member of our community is free to practice their religious tradition or spiritual path without fear of discrimination or threat of violence. Find more information on the Diversity, Equity, Inclusion & Justice page. Goucher faculty, coaches, and staff are encouraged to provide reasonable support for food, housing, meals, and attendance in order for a student to practice their religion. Should you need such support, please fill out the Religious Observance Request Form or contact Rev. Maeba for more information.
Please see our Religious Holidays page for more information.