Transportation Initiatives
Goucher faculty, staff, graduate students, and a contingency of undergraduates commute to campus every day, and students who live on campus are strongly encouraged to go and explore the surrounding Baltimore community.
To help lower the impact these commutes have on the community's carbon footprint, Goucher now offers alternative modes for transportation beyond the college's gates.

Zipcar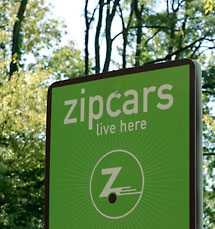 Goucher College has a partnership with Zipcar, a cost-efficient, environmentally friendly car-sharing program.
Goucher faculty, staff, and students who are older than 18 and have a valid driver's license will have 24/7 self-service access to two vehicles that are located in the Dorsey Center parking lot. Participants apply for Zipcar membership online, and the application fee then counts as a credit.
Cars can be rented for an hour and up to three days. The rates includes gas, maintenance, insurance, reserved parking, and roadside assistance.
Participants can make reservations months or minutes in advance by going online or using an automated phone system. Members get their own Zipcard, which they simply hold up to the car's windshield to unlock the doors and drive away.
For students who cannot or do not want to bring a car to school, Zipcar provides the freedom to travel off campus to attend interviews, run errands, or take a weekend trip. The program also eliminates hundreds of dollars in monthly transportation costs, saving members an average of $600/month or $7,200/year when compared with car ownership.
Becoming a Zipcar member means joining more than 300,000 people in 29 North American states and provinces and 50 cities throughout the United Kingdom. These members share 6,000 vehicles that have more stringent pollution controls than the average vehicle. On average, Zipcar members drive 2,500 fewer miles per year, saving 219 gallons of gasoline annually. It is expected that at current membership levels, Zipcar will save 16 million gallons of gasoline and 150 million pounds of CO2 annually.
Zipcar at Goucher provides more information about membership and hourly rates.