Summer Reading Selection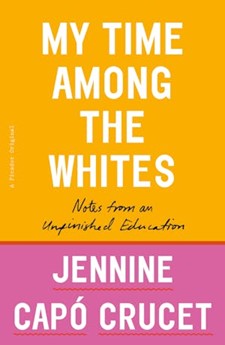 This year, incoming first-year students will read My Time Among the Whites: Notes from an Unfinished Education by Jennine Capó Crucet.
As one reviewer notes, "In this sharp and candid collection of essays, critically acclaimed writer and first-generation American Jennine Capó Crucet explores the condition of finding herself a stranger in the country where she was born. Raised in Miami and the daughter of Cuban refugees, Crucet examines the political and personal contours of American identity." The book is notable in examining the "theoretical American Dream" and is the first step in what will be students' exploration of Race, Power, and Perspective—a central component of the Goucher Commons curriculum, and an expression of the social justice commitments our college.
Goucher College First-Year Reading Assignment
View more information about the Goucher College First-Year Reading Assignment (PDF)
Book Discussion
All incoming first-year students are required to attend an in-person book discussion on Tuesday, August 22 from 1:30 p.m. – 3 p.m.
Come ready to delve into the book further with your classmates. Bring your written assignment. More details will be posted closer to the discussion.
Author Campus Visit Speaking Event
Jennine Capó Crucet is scheduled to be on campus on Monday, September 18, 2023 | 7 p.m at the Athenaeum.
About the Author
See below Jennine Capó Crucet's bio taken from the Macmillan Publishers website:
"Jennine Capó Crucet is an author and contributing opinion writer for the New York Times. Her novel Make Your Home Among Strangers was a New York Times Editor's Choice book, the winner of the 2016 International Latino Book Award, and was cited as a best book of the year by NBC Latino, the Guardian, and the Miami Herald; it has been adopted as an all-campus read at over twenty-five American universities. Her short stories have been honored with the Iowa Short Fiction Award, an O. Henry Prize, and other awards. Raised in Miami, Florida, she is an associate professor in the Department of English and the Institute for Ethnic Studies at the University of Nebraska."