Summer Reading Selection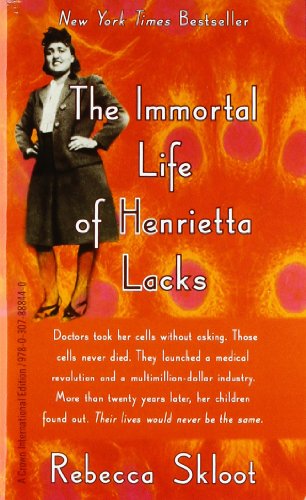 This summer, new students to Goucher College will read The Immortal Life of Henrietta Lacks by Rebecca Skloot.
This book describes the compelling story of Henrietta Lacks, who unknowingly donated her cells, beginning what was the first and, for many years, only human cell line able to reproduce indefinitely. The book is notable in dealing with ethical issues of race and class in medical research. It is the first step in what will be a four-year exploration of Race, Power, and Perspective—a central component of the Goucher Commons curriculum and an expression of the social justice commitments of Goucher College.
Goucher College First-Year Reading Assignment
View more information about the Goucher College First-Year Reading Assignment (PDF)
Book Discussion
Tuesday, August 23, 2022 | 1:30 - 3 p.m.
Come ready to delve into the book further with your classmates. Bring your written answers to the assignment. More details will be posted closer to the discussion.
About the Author
Rebecca Skloot is the author of the #1 New York Times Bestseller, The Immortal Life of Henrietta Lacks, which was made into an Emmy Nominated HBO film starring Oprah Winfrey as Deborah Lacks, Renee Elise Goldsberry as Henrietta Lacks, and Rose Byrne as Rebecca Skloot. Her award winning science writing has appeared in The New York Times Magazine; O, The Oprah Magazine, and many other publications. She specializes in narrative science writing and has explored a wide range of topics, including goldfish surgery, tissue ownership rights, race and medicine, food politics, and packs of wild dogs in Manhattan. She has worked as a correspondent for WNYC's Radiolab and PBS's Nova ScienceNOW. She and her father, Floyd Skloot, co-edited The Best American Science Writing 2011.