The Nancy G. Unobskey '60 Visiting Artist Series
Modern and Contemporary Art
The Unobskey Visiting Artist Series brings internationally recognized artists to Goucher's campus and provides students with meaningful and significant access to the fellows via exhibitions, studio visits, and lectures.
Spring 2023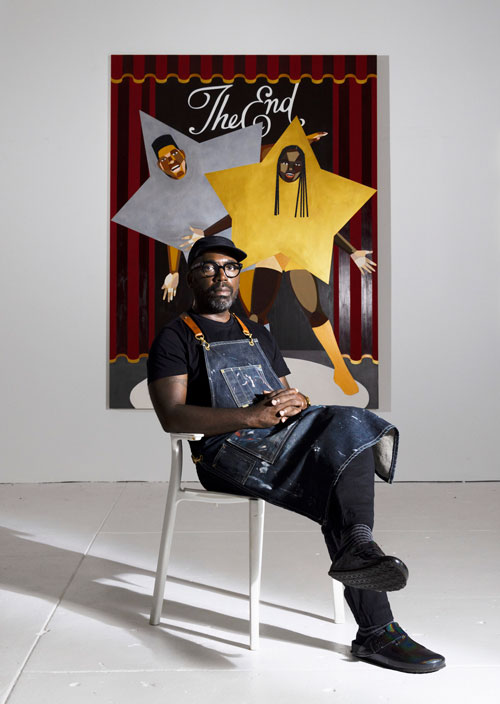 Derrick Adams - REFRAMING FUTURES II: SUPPORTING ARTISTS THROUGH ALTERNATIVE MEANS

Spring 2023 Unobskey Visiting Artist in Modern and Contemporary Art
Exhibit dates:
April 27 to June 3, 2023
Opening reception:
April 27, 2023, 6 - 8 p.m. | Silber Art gallery
Artist lecture:
May 4, 2023, 7 p.m. | Merrick Lecture Hall
Photo credit: portrait of Derrick Adams by photographer Steve Benisty
Featuring works by artists from the Last Resort Artist Retreat, Jabari Jefferson, Murjoni Merriweather, Jamaal Peterman, McKinley Wallace II, and Kyle Yearwood.
Derrick Adams is a Baltimore-born, Brooklyn-based artist whose critically admired work spans painting, collage, sculpture, performance, video, and sound installations. His multidisciplinary practice engages how individuals' ideals, aspirations, and personae become attached to specific objects, colors, textures, symbols, and ideologies. His work probes the influence of popular culture on the formation of self-image, and the relationship between man and monument as they coexist and embody one another.
---
Previous Visiting Artists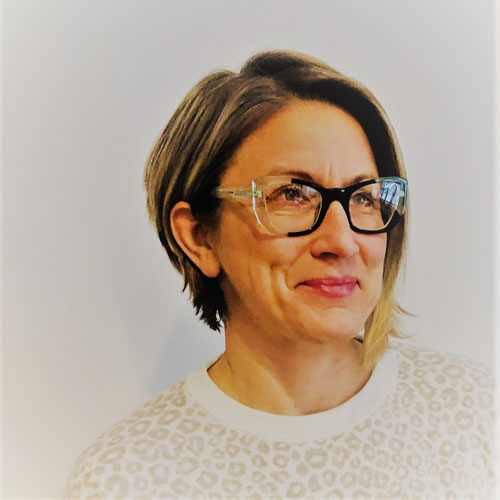 Kim Rice
Spring 2022 Unobskey Visiting Artist
Artist lecture:
April 14, 2022, 7 p.m. | Merrick Lecture Hall
Kim Rice creates large-scale works using common materials. Her installations are a meditation on institutional racism and the policies that continue to affect American society today. Kim earned her B.F.A. in Sculpture and M.F.A. in Printmaking from the University of Oklahoma. Her work has been shown throughout the country including the Alexandria Museum of Art, the Fred Jones Museum of Art, the Northern Illinois Art Museum, the Delaware Museum of Art, the Peale Museum and Prospect 4 Satellite in New Orleans. She has received multiple awards including the McNeese Grant for Socially Engaged Practice. She is based in Baltimore, MD.
---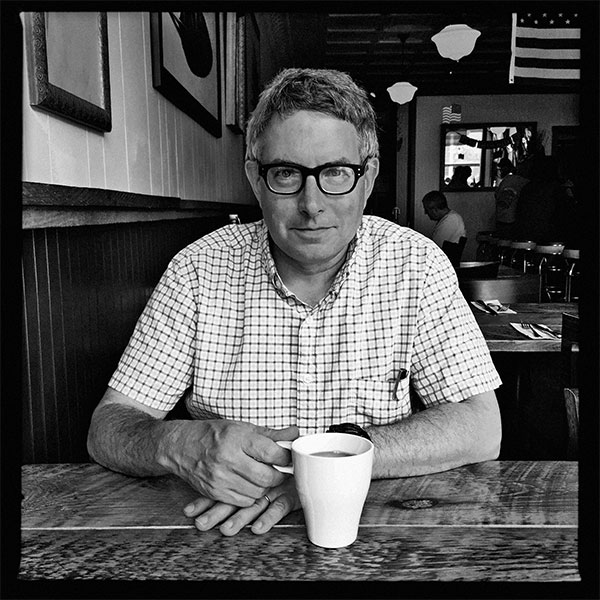 Mark Dion - Rediscovering Goucher's Lost Museum
Spring 2021 Unobskey Visiting Artist
Exhibit dates:
September 23 - December 15, 2021 | Silber Gallery
Virtual lecture: March 11, 2021, 7 p.m.
Mark Dion was born in 1961 in New Bedford, MA. He initially studied from 1981-82 at the Hartford Art School of the University of Hartford in Connecticut, which awarded him a B.F.A. in 1986 and an honorary doctorate in 2002. From 1983-84, he attended the School of Visual Arts in New York and then the prestigious Whitney Museum of American Art's Independent Study Program from 1984-85. He is an Honorary Fellow of Falmouth University in the U.K. (2014), and he has an honorary doctor of humane letters (Ph.D.) from the Wagner Free Institute of Science in Philadelphia (2015).
---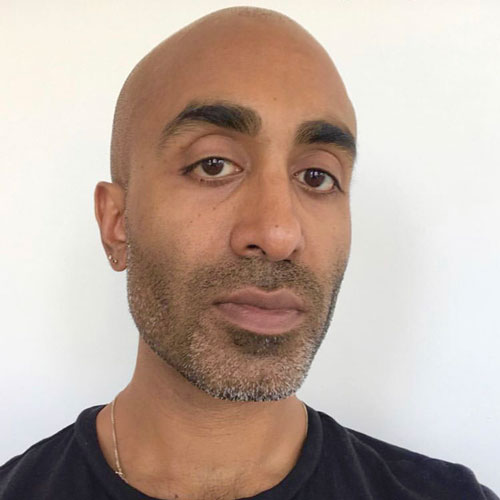 Ajay Kurian - Polyphemus
Spring 2020 Unobskey Visiting Artist
Exhibit dates:
April 3 - June, 7, 2020 | Silber Gallery
Artist lecture:
April 22, 2020, 7 p.m. | Kraushaar Auditorium
Ajay Kurian is a Baltimore-born, New York-based, conceptual artist working in sculpture, painting, and installation. Kurian's exhibition, installed to resemble a clandestine beer hall meeting, depicts cycloptic figures that possess power and status, populating a table in an ambiguous, social grouping. Atop easy postures and snappy outfits, their heads are each made up of a watchful, rotating eye and an illuminated smile. Above, a disembodied set of mechanized eyes monitors the scene, part security camera, part dystopian nightmare. Within this space all are observed, and all are observing. There is a symbiotic relationship between the platform and participants in which those who have gotten through the gates become gatekeepers—this club polices itself.
---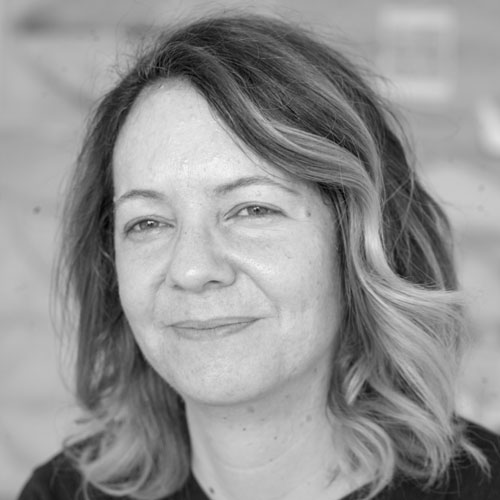 Gina Beavers
Fall 2019 Unobskey Visiting Artist
Artist lecture:
October 18, 2019, 7 p.m. | Kraushaar Auditorium
Drawing on images taken from Instagram, YouTube, image databases, and other online sources, Gina Beavers creates thick, tactile paintings that capture, in visceral ways, the curated and often superficial nature of our digital lives.
---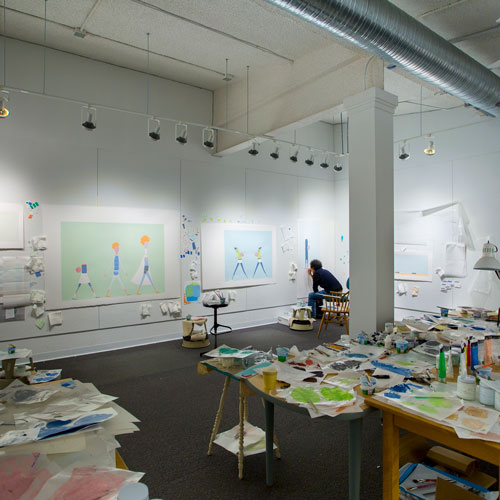 Laylah Ali - The Acephalous Series
Spring 2019 Unobskey Visiting Artist
Exhibit dates:
January 29 - March 16, 2019 | Silber Gallery
Opening reception: February 5, 2019, 6 - 9 p.m.
Artist lecture:
March 14, 2019, 7:30 p.m. | Kraushaar Auditorium
The contemporary visual artist explores power dynamics and interpersonal conflict through compositions that position culturally and sexually ambiguous figures in precarious, loaded, and unexpectedly humorous situations.
---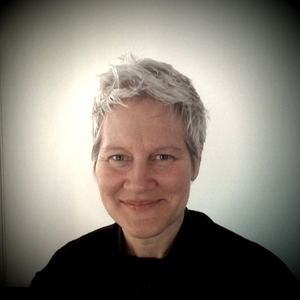 Ann Hamilton
Spring 2017 Unobskey Visiting Artist
Artist lecture:
March 30, 2017, 6:30 p.m. | Kraushaar Auditorium
Ann Hamilton is a visual artist internationally recognized for the sensory surrounds of her large-scale installations. Her multi-media environments are a collaboration between the architectural site of her installation, sound, our experience in space, and the inventiveness of the viewer/interlocutor. Her work invites viewers to imagine the histories and stories inherent in a location. Storytelling is embedded in the objects and the spaces she uses, as well as a result of the cumulative effect of her installations. Using time as process and material, her methods of making serve as an invocation of place, of collective voice, of communities past and of labor present. Often using sound, found objects, and the spoken and written word, as well as photography and video, her objects and environments invite the audience to embark on sensory and metaphorical explorations of time, language and memory.
---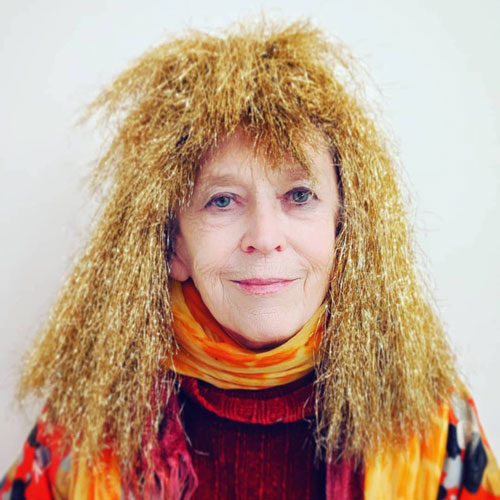 Linda Montano
Spring 2016 Unobskey Visiting Artist
Artist lecture:
April 14, 2016, 7 p.m. | Haebler Memorial Chapel
Linda Montano is a performance artist and her work since the mid 1960's has been critical in the development of video by, for, and about making art in order to heal, understand and celebrate this short life journey. Attempting to dissolve the boundaries between art and life, Montano continues to actively explore her unresolved questions through shared experience, role adoption, and intricate life altering ceremonies, some of which last for seven or more years. Her artwork is starkly autobiographical and often concerned with personal and spiritual transformation.
Montano's influence is wide ranging — she has been featured at museums including The New Museum in New York, MoMA, MOCA San Francisco, and ICA in London. Montano created 14 Years of Living Art: 1984-1998, A 7 Chakra Experience and Another 21 Years of Living Art 1998-2019: A Free Online School for Performance Experimentation. She has placed over 60 of her videos free on YouTube.
---