Silber Art Gallery
The opening of the Silber Art Gallery in the Goucher College Athenaeum fulfilled President Kraushaar's vision of more than 50 years ago: to provide a suitably secure gallery dedicated solely to the exhibition of art, both from the Goucher collection and from contemporary artists and collectors outside the campus.

The Silber Art Gallery was made possible through the contributions of Sidney and Jean Flah Silber. Mr. and Ms. Silber have long appreciated the capacity of the visual arts to express meaning, communicate the insights and emotions of the individual, and convey the character of a place, a people, and a time. They realize how powerfully art can teach, both inside the classroom and beyond, and they understand the lessons it offers students of the human experience and the natural world. The gallery is the new home to Goucher's permanent collection and its critically acclaimed program of contemporary art exhibitions. With 1,000 square feet of exhibition space and a 21-foot ceiling, the gallery is capable of housing large-scale art works. In addition to enabling us to display selections from the college's permanent collection, the gallery hosts a range of programming, from the traditional to the experimental, featuring the work of students, emerging artists, and established names alike.
Most Recent Exhibit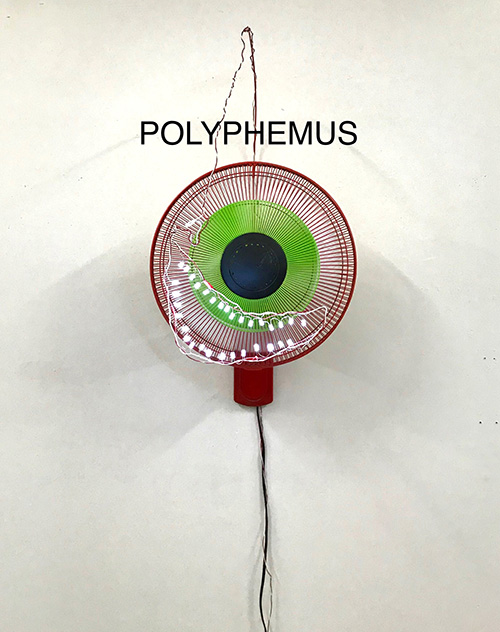 Ajay Kurian: Polyphemus
Exhibit Dates: September 18 to November 30, 2020.
Polyphemus, installed to resemble a clandestine beer hall meeting, depicts cycloptic figures that possess power and status, populating a table in an ambiguous, social grouping. Atop easy postures and snappy outfits, their heads are each made up of a watchful, rotating eye and an illuminated smile. Above, a disembodied set of mechanized eyes monitors the scene, part security camera, part dystopian nightmare. Within this space all are observed, and all are observing. There is a symbiotic relationship between the platform and participants in which those who have gotten through the gates become gatekeepers—this club polices itself.
---
Follow us on Instagram @GoucherArtGalleries.

Financial support and contributions provided by the Baltimore County Commission on Arts and Sciences, the Goucher College Center for Art and Media, the Lahey Fund, and other supporters of the contemporary arts.