2017 Citation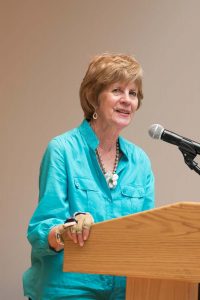 Goucher College is proud to honor Elizabeth "Betty" Overington Knupp, Class of 1967, with the Alumnae & Alumni of Goucher College (AAGC) Award for Excellence in Public Service. A tireless advocate for learning, Betty has long devoted her life to arts education, service to her community and to senior adults, and to extensive art-focused travel.
Betty began her career as a research analyst in the Civil Rights Division of the Department of Justice, which grew out of an internship she had while studying political science at Goucher. It was rewarding work, but when her sons entered elementary school, she saw an opportunity to enrich their classrooms. Betty created the Picture People Program, which brought in parents to the elementary school to talk to kids about artists and their paintings. She had caught the teaching bug, and soon Betty expanded her classes to Ginger Cove, a retirement community; St. Martin's Lutheran Church; and Anne Arundel Community College. Over 25 years, she taught art history classes to senior adults seven times a week.
Betty made art accessible and exciting for people of all ages. Many students took her classes for years, and, luckily, talking about art with adults wasn't much different than teaching kids—neither are hesitant to speak up.
Betty also organized trips for her students around the artists and paintings they studied, by visiting art museums, churches, and historical houses. She planned trips in both the U.S. and abroad, with more than 20 trips to Europe alone. They were immensely popular with her students, as Betty planned and took care of everything. She believed in making her trips as carefree as possible for senior adults, helping them get out of the classroom and see art and beauty in Europe and the United States.
In 2007, Betty was one of six recipients of an Annie Award at the 8th annual ceremony of the Arts Council of Anne Arundel County, which "honors people who have made a lasting and significant contribution to the arts in the county." Besides a lifetime of arts education, Betty has given so much more. She started a program in the 1980s that brought authors to local schools to get kids excited about reading and writing. And volunteering with the Anne Arundel County Literacy Council, she once taught a man to read so that he could read to his own two children.
Betty co-founded the South County Concert Association, bringing live music to the Annapolis area. She has served on its board for 42 years. Betty helps care for gardens at her church, spearheading a project to install a dozen rain gardens, and she volunteers as a gardener at a local senior center. Now that she's retired from teaching, she plans to do even more community gardening. And she continues to take her students on art trips.
Now a member of Goucher's 50th Reunion class, Betty's impact on the community cannot be overstated. Generations of senior adults and children alike—including her own children and grandchildren—have benefited from her passion for art, her enthusiasm for music, and her joy of gardening. She has worked endlessly to bring the world to her students, to open minds to new avenues of creativity and expression. For her leadership in elevating the hearts and minds of her friends, community, and alma mater, the Alumnae & Alumni of Goucher College recognizes her with its Award for Excellence in Public Service.