Marguerite Barland '60 Merit Award
Congratulations to our 2023 recipient, Robert L. Bull, Jr. '93
Since 2015, the Marguerite Barland '60 Merit Award has been presented annually in honor and celebration of our first African American graduate, Marguerite Barland. This annual award celebrates one or more alumnae/i who in her or his professional and private life has significantly contributed to the diversity of our campus community through leadership—as a mentor, role model, volunteer, or philanthropic supporter of the college. Throughout their life, this individual will have exemplified Goucher's Community Principles—respect, inclusion, communication, service and social justice, and responsibility—and by doing so, they will have enhanced and inspired our community.


2023 Marguerite Barland '60 Merit Award Recipient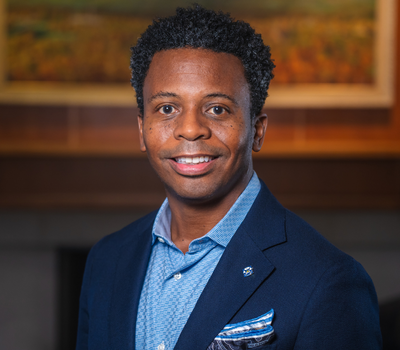 Goucher College College is proud to honor Robert L. Bull Jr., Class of 1993, with the 2023 Marguerite Barland '60 Merit Award. The president of The Compass Group, a fundraising consulting firm, Robert has spent decades devoting his time and resources to the causes he believes in, helping organizations with missions both global and local, and demonstrating to others the importance of leadership and philanthropy.
Robert was a member of one of the first classes at Goucher to accept men as students, and he continued to be a pioneer after graduation. In 2002, he joined the AAGC, and in 2007, Robert became president of the alumni board. He was the first African American and the first man to hold this position. He also became a member of the Goucher College Board of Trustees in 2007, a position he held for four years and took on again in 2017.
Robert is proof of the power of volunteering. Formerly chair of the Greater Goucher Fund, today he is chair of the college's [UNDAUNTED] campaign, which has raised more than $83 million of its $100 million goal so far.
He has also helped transform the Jewell Robinson Dinner, which began as a recognition event celebrating the achievements of Goucher's Black alumnae/i. Now, thanks to Robert's efforts the dinner also serves as a fundraising event for the Imani Fund, which provides financial support for study abroad experiences for students in the Maryland Scholars Program.
The results of Robert's work are boundless. As a fundraising consultant, he has helped raise over $1 billion in philanthropic gifts across the sectors of conservation, education, health care, and the arts. A champion for Black cultural sites and museums, he has raised the profile of hundreds of small organizations, making his company the go-to fundraising consulting firm for African American historic sites. Robert has always emphasized teaching and encouraging others, and a goal of his work is to inspire more African American fundraising professionals to take his lead.
The college has long recognized the important work done by Robert; in 1998, during his fifth reunion,
he received the Jenifer Mitchell Reed '86 Young Alumni Award, and he was awarded the John Franklin
Goucher Medal at Commencement in 2019.
Goucher College is a stronger place with alumni like Robert, and a stronger place because of Robert. It is with great esteem for his convictions and values, his generosity of spirit, and his inspiring leadership that we are proud to recognize Robert L. Bull Jr. '93 with the 2023 Marguerite Barland '60 Merit Award.