April 20, 2015
Congratulations, Julia Rogers Research Prize Winners!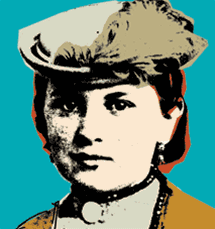 Congratulations to the 2015 Julia Rogers Research Prize Winners! The winners were selected as examples of outstanding student scholarship and writing.
The winners will be celebrated at the Student Symposium on Wednesday, April 22nd at 5pm in the Hyman Forum of the Athenaeum.
We invite the Goucher community to attend.

The winners are:
First-Year/Sophomore: Michaela Finley, "Courting Calm: The Art of Reducing Stress"
Junior/Senior: Freshta Akbari, "Elimination of Candida albicans' Biofilms on Intravascular Catheters"
Graduate: Neda Semnani, "The Canvas: Excerpt from They Said They Wanted Revolution"
Margaret Guccione Prize: Kristina Gaddy, "A Necessary Evil: The Midwives of Anne Arundel County"
For information about submitting a paper for next year's competition visit the Julia Rogers Research Prize webpage.