Great Opportunities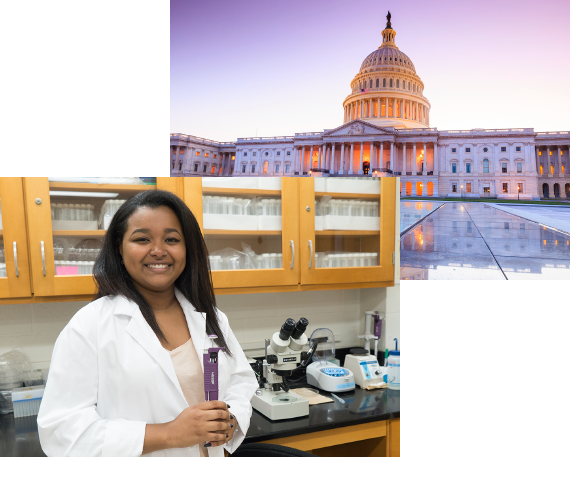 Companies and graduate schools value the Goucher brand. Our students receive a world-class education that emphasizes the strong writing, effective communication, critical thinking, and problem-solving skills that employers seek.
Our Career Education Office will help you find the perfect internship to gain valuable real-world experience, as well as a job when you graduate.
Our prime location is also close to a plethora of opportunities. We're only an hour away from Washington, DC; less than two hours away from Philadelphia; and three hours away from New York City by car or train.
Visit our Goucher Success Story page for more.


Where do students intern?
From public to private, recent internship sites include:
---
Hewlett Packard
The Johns Hopkins Hospital
Merrill Lynch
NASA Goddard Space Flight Center
National Science Foundation
The New York Times Magazine
The United States Senate
Where do Goucher graduates go on to work?
Our graduates go across the globe in a variety of fields and industries, including:
---
Google
Microsoft
The World Bank
T. Rowe Price
Korchula Productions
IVC Evidensia (United Kingdom)
Partners in Health (Rwanda)
Carnegie Mellon University
Dupont
What graduate schools do Goucher students attend?
Top-ranked institutions, including:
---
Boston University
Georgetown
Harvard University
Johns Hopkins University
Newcastle University
New York University
The University of Chicago
Yale University
Does Goucher offer any 4+1 programs?
Yes!
---
In addition to programs with our own graduate program, Goucher has opportunities with The Johns Hopkins University Carey Business (Bachelor of Arts/Master of Science Programs) and Loyola University Maryland (Bachelor of Arts/Emerging Leaders Master of Business Administration Program).
Learn More