Honors & Awards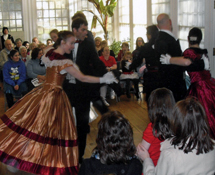 In collaboration with Musica Antiqua, an award-winning period music chamber group, Choregraphie Antique received a Maryland Humanities Council grant for a project entitled: "Delightful Diversions: A History of Dance and Music in Early Maryland."
Chorégraphie Antique has performed in collaboration with the Peabody Ragtime Ensemble, the Towson University Early Music Ensemble, the Baltimore Symphony at the Joseph Meyerhoff Symphony Hall, the Philadelphia Orchestray at the Kimmel Performing Arts Center, and the National Symphony at the John F. Kennedy Center for the Performing Arts.
As guest artists, Chorégraphie Antique has also performed with One New York Baroque Company in New York City, the English Folk Song and Dance Society in London, and at the University of Limerick in Ireland.