Rosenberg Gallery
Goucher Student Art Showcase
The Annual Student Art Showcase is open to all Goucher College students who have taken studio art classes during the 2019-20 academic year. The Art Program faculty and Goucher's curator will judge the work, and this year the showcase will be organized into a digital exhibition. There will be a $300 prize for first place, $200 for second, and $100 for third. Thomas James, the visual arts curator of Creative Alliance in Baltimore, will choose the award winners.
Call for Entry
The Rosenberg Gallery is located in the lobby of the 900+ seat Kraushaar Auditorium and the 223-seat Merrick Lecture Hall. Art exhibits have been mounted here since 1962, and the gallery was renovated and renamed the Rosenberg Gallery in 1982, after Ruth Blaustein Rosenberg '21. Operated under the auspices of Goucher's Art and Art History programs, the gallery presents five exhibits each academic year.
Shows are selected around a central theme or concept. On occasion, exhibits are presented in conjunction with some other activity on campus, such as a concert, performance, or symposium. Where appropriate, the gallery collaborates with other academic programs to present multidisciplinary public programs. This is in keeping with the gallery's goal of expanding the audience for contemporary art and the philosophy that art is an enterprise connected to other areas of human inquiry and to the concerns of all people, not just to connoisseurs and specialists.
We are committed to exhibiting the work of artists who do not have the opportunity to have solo showings in commercial galleries in Baltimore, with a special interest in providing opportunities for artists who are women, members of ethnic or racial minorities, or who live in rural areas of Maryland.
The gallery frequently exhibits artists from other parts of our region alongside Baltimore-area artists to help bring these artistic communities closer together and promote the exchange of ideas and information. Artists using innovative and unfamiliar techniques and artists whose work addresses contemporary concerns, both aesthetically and in terms of content, are given a chance to reach a broader audience, and, in turn, the audience is given a chance to expand its understanding and awareness of contemporary art. For students, the gallery activities are a component of a liberal education, providing a place to learn about contemporary art and meet working artists.
The Rosenberg Gallery program is funded with the assistance of grants from the Maryland State Arts Council, an agency funded by the State of Maryland and the NEA and the Baltimore County Commission on the Arts and Sciences.
Current Exhibit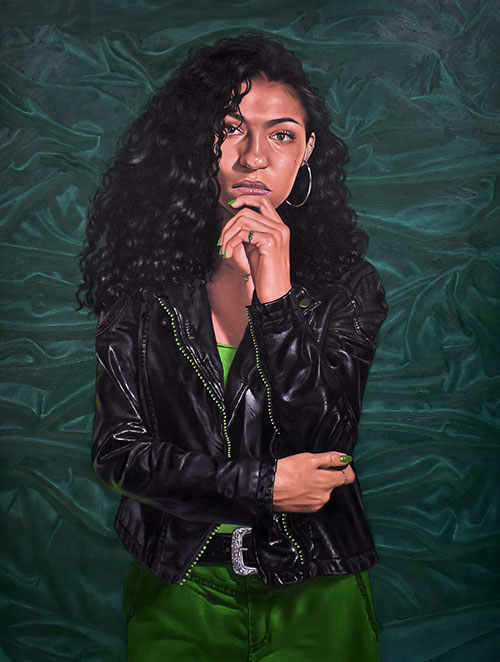 Anatomy of Living Color
Exhibit Dates: February 1 to March 14, 2020
Anatomy of Living Color is an exhibition of Baltimore-based artists whose work explores the power of Black identity. Creating a conversation around culture, academia, and shared experience, Anatomy of Living Color is a student-initiated show and series of events organized by Olivia Douglas '21 as part of Goucher's celebration of Black History Month.
---

Financial support and contributions provided by the Baltimore County Commission on Arts and Sciences, the Goucher College Center for Art and Media, the Lahey Fund, and other supporters of the contemporary arts.