Sean McComb '13
Teacher
Patapsco High School & Center for the Arts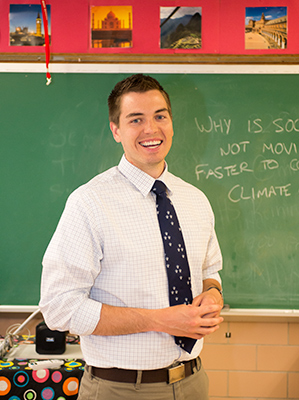 Sean McComb, a 2013 graduate of Goucher College's Professional Development Certificate program, was incredible gracious about being named the 2014 National Teacher of the Year, a top honor for educators. He first points out that the recognition has been a "wonderful chance to give my family some opportunities we wouldn't have had before." He adds, "Of course, meeting the president was also wonderful."
When McComb—now a principal at Lutherville Laboratory—was named National Teacher of the Year, he taught English at Patapsco High School & Center for the Arts, one of Goucher's professional development schools.
McComb says he became a teacher because of difficult life experiences that shaped his high school years. "My family was going through a difficult time. My mom was losing a battle with alcoholism. My father was out of work. I was really in a desperate place," he says.
But he was fortunate enough to have a couple of teachers who made a concerted effort to help him, academically and personally. "They helped me to believe in myself when I wasn't doing so on my own, and they helped me see great possibilities for myself and to aspire to reach them," he says. "So when I left high school and went away to college, I thought about the work they did in my life and how they changed my life, and I thought I needed to pay that forward."
To continue to improve his efficacy in the classroom and in his school system, McComb attended Goucher as part of the certificate program in school improvement leadership. He says that experience and coursework really helped him think more systemically about schools and about how the choices teachers make can affect the classroom. "It's really helped broaden my perspective," he says.
One of the things McComb says he particularly liked about the program at Goucher was that his professors were also practicing educators. He says, "It was really helpful to get their practical advice, along with the theoretical coursework we were working on. I thought that combination was specifically very helpful, as was the personal attention, small class sizes, and really accessible college community and professors."