Rachel Grosso '18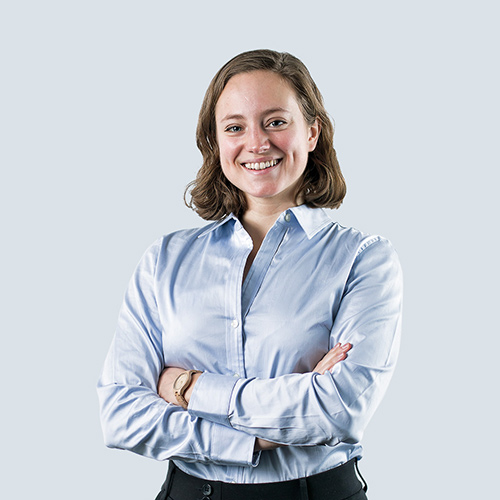 Rachel Grosso '18 had just graduated and wanted to find a job implementing cycling as a form of transportation. She found Kittelson & Associates, which develops greener transportation solutions by creating infrastructure for busing, walking, and biking. Grosso admired their work and called them about an internship. There were no internship openings, so instead, Kittleson hired her.
Her story is the "atypical case," she says, because not only did she get a job immediately, but she's also missing the credentials that her counterparts have in engineering, city planning, and data analytics. Grosso studied environmental studies, with a concentration in environment and society, which prepared her in a different way.
"My mentors at Kittelson saw that I bring an ability to learn and engage. A large amount of my passion was fostered at Goucher because I was able to take a variety of classes, study abroad, and take in a variety of experiences," Grosso says. "I learned how to think critically at Goucher, to be unflappable and ask good questions, and to develop a holistic perspective because there are so many factors that are considered for every project at Kittleson."
Grosso works with businesses, colleges, hospitals, and municipalities who want to make greener transportation more accessible by making a road safer or adding sidewalks, bike lanes, and bus stops. Grosso starts by drafting a plan based on what the client wants and what the infrastructure and funding sources can support. Then, the plans move to the engineering side, where Grosso uses software to create the blueprints.
When she comes home from work, Grosso's roommate always asks her, "What did you learn at work today?" instead of the trite, "What did you learn at school today?" It's always something new, and Grosso loves that about her job.
Before Kittelson, Grosso's interned at a water policy firm. After seeing people's apathy for growing environmental problems, Grosso realized environmental policy was not for her. Grosso then took classes in geology and agriculture and was drawn to the "nitty-gritty" of collecting soil, air, and water samples. Even so, Grosso couldn't see herself doing this for the rest of her life.
Junior year, Grosso was studying abroad in Copenhagen, Denmark, where cycling is a common means of transportation. The wheels were turning. She took classes in GIS, digital mapmaking, and data analytics and applied what she had learned to her capstone project on bike infrastructure. Then, she found Kittelson, loved what they were doing, and well, you know the rest.