Moe de La Viez '19
Individualized Interdisciplinary Major
"I am so glad I majored in the IIM because it gave me a sense of owning my time at Goucher. It was cool to create my own path."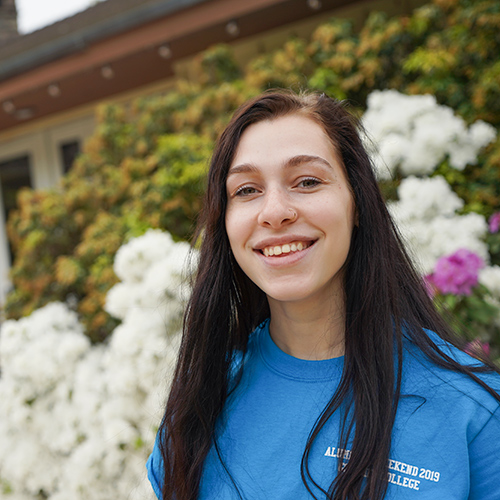 Teased wig and vibrant lipstick, bathrobe and curlers, sundress and Baltimore's skyline, wedge-heeled boots and her own choreography: Moe de La Viez '19 filmed and starred in a music video—as several different personas—that she created for her senior capstone project.
Every senior completes a capstone, but de La Viez's was a bit different since she developed her own major. As an individualized interdisciplinary major (IIM), de La Viez combined communications, creative writing, and studio art so that she could focus on the hands-on elements of video production.
"I am so glad I did it because it gave me a sense of owning my time at Goucher. It was cool to create my own path," de La Viez says. "I had success, and part of it was being able to tailor my time. Now I have a major that represents me and what I want to do—produce music videos."
Part of creating her major involved presenting her proposal to faculty from each of the three programs she wanted to combine and then receiving their approval. At first, she received a few noes (and yeses, too), but she persevered to find professors who would back her idea and support her throughout the process.
"A lot of people are afraid of doing the major or critical of it because of what future employers will say. But it's a really good thing to have because you can use your specialized major to market yourself," de La Viez says. "And, if I have a cool video portfolio, they're not going to care what I majored in. I would just tell people to consider the IIM because you can make it your own."